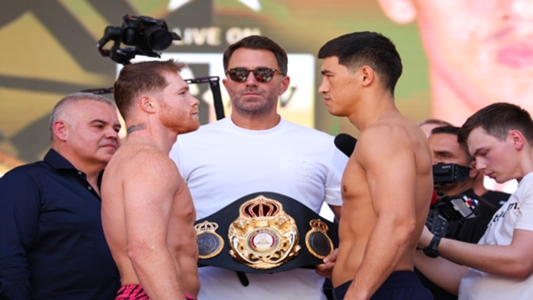 Dmitry Bivol defeats Canelo Alvarez
Canelo-Bivol; Round 12
Canelo is pressing the issue in the final round. Multiple punch combination from Canelo. An uppercut and a right hand for Canelo. A left by Bivol. A three-punch combination by Bivol. A left and a right from Canelo. A jab from Bivol. A right from Canelo. Three lefts by Bivol. COmbination from Canelo. Left to the body from Canelo. Uppercut lands for Canelo. We go to the judges. Remember, we are in Las Vegas. (10-9 Canelo, 114-114)
Canelo-Bivol; Round 11
Right to the body from Canelo. An uppercut and a right for Canelo. A one-two from Canelo. A left connects for Bivol. Straight right lands again for Canelo. A combination from Bivol and Canelo comes back with one of his own. A combination from Bivol. Two lefts from Bivol. A serious of lefts from Bivol. Hard left from Canelo. Combination from Bivol. Could we be on the verge of a massive upset? (10-9 Bivol, 105-104 Bivol)
Canelo-Bivol; Round 10
Double jab from Bivol. Straight right gets through for Bivol. A jab and then a left from Bivol. A right to the body from Canelo. A right to the body and a flush left hook from Bivol. Canelo is making Bivol miss at will. An exchange of hard lefts. Another left from Bivol. A left from Canelo. A right from Bivol. Left to the body from Canelo and Bivol comes back with a left of his own. A much-needed round from Bivol. (10-9 Bivol, 95-95)
Canelo-Bivol; Round 9
A three-punch combination from Canelo to start the ninth. A jab by Canelo. One minute in, and Bivol hasn't thrown anything. Bivol starts unloading, but only one connects. Canelo is beginning to pour it on with a multiple-punch combination, and the crowd is losing their minds. Another combination from Canelo. Bivol with a left of his own. (10-9 Canelo, 86-85 Canelo)
Canelo-Bivol; Round 8
A clash of heads and both guys are warned by the referee. Straight right from Canelo but Bivol with a two-piece. Another combination from Bivol. Bivol wildly misses a left. A right lands for Bivol. RIght to the body by Canelo. A one-two from Canelo. Three-punch combination from Canelo.A close round until the end when Canelo came on. (10-9 Canelo, 76-76)
Canelo-Bivol; Round 7
Three-punch combination to begin the seventh for Canelo. Right to the body from Canelo. A left from Bivol. Piston like jab from Canelo. Right to the body from Canelo. Left to the body by Canelo. A combination from Alvarez and Bivol with one of his own. Combination from Canelo. Bivol narrowly misses a right hook to end the round. (10-9 Canelo, 67-66 Bivol)
Canelo-Bivol; Round 6
Straight right and then a right to the body to start the sixth for Canelo. Another right lands for Canelo. A combination from Bivol. A three-punch combination from Canelo followed by a right uppercut. A right to the body is followed by a right hook to the head. Stiff jab from Canelo. (10-9 Canelo, 58-56 Bivol)
Canelo-Bivol; Round 5
A five-punch combination by Bivol to begin the fifth. Straight right lands for Canelo. Such power behind every shot. A right by Canelo but Bivol comes back with a four-punch combination and Canelo dares him to throw but Bivol is reluctant. A left from Canelo. A right buckles Bivol slightly. Three-punch combination from Bivol to close things out. (10-9 Bivol, 49-46 Bivol)
Canelo-Bivol; Round 4
Canelo starts the fourth with a double jab and an overhand right to send Bivol back to the ropes. Bivol comes right back with a double jab. A five and then a four-punch combination from Bivol. Combination connects for Bivol. A right slightly wobbles Bivol. A double jab with a thunderous uppercut that Bivol took well. A slight edge to Bivol but do like how Canelo came on at the end. (10-9 Bivol, 39-37 Bivol)
Canelo-Bivol; Round 3
A combination ending with a left hook by Bivol lands flush. He's cooking right now. A jab from Bivol. A right from Canelo. A right from Canelo. Bivol fires and lands a right of his own. Three-punch combination from Bivol. Left to the body from Canelo. Another combination from Bivol. (10-9 Bivol, 29-28 Bivol)
Canelo-Bivol; Round 2
Bivol is trying to pump the jab, but a high guard from Canelo prevents that. A right from Bivol sends Canelo back. A right down the middle from Bivol. Combination from Bivol. Right cross hits Bivol's chin. Bivol took it well. A right sends Bivol to the ropes. Trading of jabs. A jab and a right from Bivol. Hard right to the body followed by a left in the same spot. (10-9 Bivol, 19-19)
Canelo-Bivol; Round 1
A pro-crowd Canelo chanting "Canelo" as soon the bell sounded. Right to the body from Canelo. Bivol is throwing shots but is hitting Canelo's tape on his gloves. A right sends Bivol back. Bivol establishes the jab. But Canelo fires a right to send Bivol into the ropes. Combination from Bivol. Left to the body by Canelo. Bivol fires a right hand. Combination from Bivol. Some redness on Canelo's nose. A hard right to the body from Canelo to end the round. You can see what each guy is going to try and implement. (10-9 Canelo)
Time for Canelo vs. Bivol
It is time for the main event as Canelo Alvarez (57-1-2, 39 KOs) battles Dmitry Bivol (19-0, 11 KOs) for the WBA (super) light heavyweight title.
The time for talking is over. Can Canelo become a two-time light heavyweight champion? Or does Bivol crash the party and pull off the upset?
Here we go.
Montana Love wins lackluster decision to remain unbeaten
Love def. Collaz by unanimous decision (114-112, 114-112, 114-112).
This wasn't the most exciting fight despite each guy scoring a knockdown. Love was stuck in neutral and unable to shift into another gear. His style will work with guys like Collaz but not against the elite at 140 pounds.
Uneven fight after seven
I have Love ahead but there's no urgency from him at all. He's content circling around the outside, throwing jabs here and there with Collaz content letting him do that. The crowd is letting them they aren't liking the lack of action thus far.
Down goes Love
Collaz showed no ill effects from being knocked down in round one. He came firing to begin the second, and it paid off. Love went into a jab, and Collaz landed an overhand left to the top of Love's head to send him to the mat. Love popped right up like it didn't bother him.
Each man has a knockdown going into the third.
Collaz down in the opening round
Near the end of the first round, Love drops Collaz with a looping right hook. Collaz made it back to his feet and made it to the second. Let's see how Love attacks in round two.
Co-main event time
In the co-main event of Canelo vs. Bivol is Montana Love (17-0-1, 9 KOs) squaring off against Gabriel Collaz (25-2-1, 15 KOs) in junior welterweight action. A big spotlight here for Love to make an impression in front of a worldwide audience.
Shakhram Giyasov drops Christian Gomez three times for lopsided decision win
Giyasov def. Gomez via unanimous decision (99-88, 99-88, 98-89).
A dominant performance from Giyasov as he dropped Gomez three times in the fight. Have to give Gomez credit for continuing to get up and bring the fight to Giyasov. But Giyasov's power was too much for Gomez to overcome, and Giyasov remains undefeated in 13 fights.
source
https://www.google.com/url?rct=j&sa=t&url=https://www.dazn.com/en-US/news/boxing/canelo-vs-bivol-live-updates-results-highlights/3a35xac6i6gb1o75pxbcpgzxh&ct=ga&cd=CAIyGjM5YWU2NzNiY2UyZGJkMGI6Y29tOmVuOlVT&usg=AOvVaw0J3pQ4beW6Vud7V0Q9KwVe