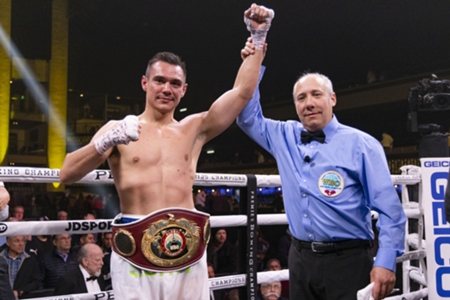 Tim Tszyu wins entertaining fight to remain undefeated
Tszyu def. Gausha via unanimous decision (116-111, 115-112, 114-113).
What were those judges thinking with those 115-112 and 114-113 scores? That fight wasn't close whatsoever. At least the right guy won.
Tszyu-Gausha; Round 12
Tszyu isn't resting on his laurels. He continues to go right at Gausha and throw combinations. A snapping uppercut by Tszyu. Hard right to the body. How hasn't Gausha taken a knee or dropped to the canvas? Tough as nails.
I say that and Gausha lands a straight right to stop Tszyu in his tracks. Tszyu roars back with a combination and a left uppercut and a straight to end the fight. A fun fight. (10-9 Tszyu, 118-109 Tszyu)
Tszyu-Gausha; Round 11
Gausha comes right out with a series of jabs, but nothing else of substance as Tszyu fires off a combination. More combinations upstairs and downstairs for Tszyu. Quite impressive. More combinations for Tszyu as he sends Gausha back with a right. Laser right from Tszyu. Gausha needs a stoppage to win. (10-9 Tszyu, 108-100 Tszyu)
Tszyu-Gausha; Round 10
Hard left to the body from Tszyu, but Gausha comes back with a right hand. Right lands for Tszyu. Short right uppercut for Tszyu. Hard right to the body for Tszyu. Right to the body. Combination from Gasuha. Five-punch combo from Tszyu. A left and a nice body from Tszyu. (10-9 Tszyu, 98-91 Tszyu)
Tszyu-Gausha; Round 9
Gausha starts the round with a couple of combinations. An overhand right to the side of Gausha's head. Right for Gausha, but Tszyu comes back with an uppercut. A jab from Gausha but Tszyu counters with a right. Straight right by Gausha and Tszyu zips a right of his own to send Gausha back to the ropes. A combination from Tszyu. Sweeping left hook catches Gausha flush. (10-9 Tszyu, 88-82 Tszyu)
Tszyu-Gausha; Round 8
The right-hand lands for Gausha to start the eighth. Tszyu comes back with a counter right hand. Tszyu walks Gausha down to the ropes, and Tszyu unloads to the body. Tszyu with a chopping left. Gausha with a chopping right of his own. Another right for Gausha. Tszyu throws a combination to close the round. (10-9 Tszyu, 78-73 Tszyu)
Tszyu-Gausha; Round 7
Tszyu comes out, goes right back to the body, and then blasts a left hook upstairs. A right neutralizes Tszyu for a moment. Tszyu doesn't get deterred for a long. He walks Gausha back down with a left and a right to the body. A chopping right for Gausha. Two rights and then a left for Tszyu. Three short uppercuts from Tszyu. It's becoming target practice for him. A body shot, an uppercut, and then a straight right. What pinpoint accuracy. (10-9 Tszyu, 68-64 Tszyu)
Tszyu-Gausha; Round 6
Tszyu continuing his body attack with Gausha having no answer. Straight right and then a straight left from Tszyu. It's all Tszyu. (10-9 Tszyu, 58-55 Tszyu)
Tszyu-Gausha; Round 5
Tszyu comes out a man on a mission to begin the fifth.
He walks Gausha down and pounds the body and starts unloading and has Gausha on wobbly legs. Gausha is holding on for dear life. Tszyu continues to walk Gausha down and throwing upstairs and downstairs. Gausha has no answer. Hard left to the body from Tszyu. Two more hard shots to the body to end the round. Can't see this lasting too much longer. (10-9 Tszyu, 48-46 Tszyu)
Tszyu-Gausha; Round 4
An exchange of jabs to begin the fourth. Nice right hand by Gausha.
Counter left wobbles Gausha for a quick moment. Left to the body for Tszyu. An uppercut from Tszyu connects, and Gausha appears to hit the canvas. The referee calls it a slip.
Gausha is in a bit of trouble as that shot affected him. Tszyu is walking Gausha down and pouring it on every which way. But they are separated by the referee and the horn sounds. The pendulum has swung in favor of Tszyu. (10-9 Tszyu, 38-37 Tszyu)
Tszyu-Gausha; Round 3
Tszyu is walking Gausha down and digs a left hook to the body. A left and a straight right-hand finds a home and then rips a combination. Two overhand rights and an uppercut connects for Tszyu. He's finding his rhythm and gaining momentum. Stiff left jab from Gausha. (10-9 Tszyu, 28-28)
Tszyu-Gausha; Round 2
Let's see how each guy moves forward in the second.
Tszyu has a cut above the right eye from a clash of heads. Tszyu has settled down as he finds a home for the jab and the right hand over the top. Gausha comes right back with the jab. A left backs Gausha up at the end of the round. (10-9 Tszyu, 19-18 Gausha)
Tszyu-Gausha; Round 1
Gausha comes right out, firing the jab. A one-two for Gausha. Can tell Tszyu is processing what's coming at him. Each guy throws hooks to the gloves. A counter right-hand drops Tszyu to the canvas. He gets up and appears to be ok.
Gausha keeps pounding the right and wobbles Tszyu yet again. But Tszyu bites on his mouthpiece and lands a couple of right hands at the end of the round. Couldn't ask for a better start if you're Gausha. (10-8 Gausha)
Main event time
It's time for the main event as Tim Tszyu (20-0, 15 KOs) battles Terrell Gausha (22-2-1, 11 KOs) in junior middleweight action. Huge fight for Tszyu as he makes his American debut.
Can he deliver on the big stage or does Gausha spoil the party?
Michel Rivera coasts to a decision win to remain undefeated
Rivera def. Adorno via unanimous decision (97-93, 97-93, 97-93).
It was all Rivera, all the time. He was the aggressor, walked Adorno down at will, and threw one countless jab after another to control the fight.
The only drawback to the stellar performance is that Rivera was too content with the jab and not throwing enough power shots because he had things well in control, which would have allowed him to take chances to put Adorno away.
All Rivera
After five rounds, it's all Rivera. Much of what we saw in the first three rounds. Would be nice of Rivera to take a little more risk. Adorno's not letting his hands go enough, and when he has, there's not enough power to pose a threat.
Rivera in control
Through three rounds, it's all Rivera. He's putting on a clinic with the jab. He's controlling the distance and flicking it at will. Adorno needs to make adjustments and in a hurry. Rivera can do this for another seven rounds.
Co-main event
The co-main event of Tszyu vs. Gausha features Michel Rivera (22-0, 14 KOs) taking on Joseph Adorno (14-0-2, 12 KOs) in lightweight action.
Rivera is an exciting, all-action fighter. Should be fun for however long it lasts.
Elvis Rodriguez knocks out Juan Velasco
Rodriguez def. Velasco via knockout at 2:49 of the seventh round.
All around great victory for Rodriguez. He dominated from the opening bell. He had a strong jab, a strong right hand and showed great power throughout the fight. Rodriguez closed the show by dropping Velasco three times, punctuated by a left and right hand that sent Velasco partially through the ropes.
A good way to kick off the show.
Rodriguez surging ahead halfway through five
Rodriguez seized control in the fifth. He's throwing a number of combinations, digging punches hard to the body, and taking control of the ring. He needs to continue this pace as he can put Velasco away in the next couple of rounds.
source
https://www.google.com/url?rct=j&sa=t&url=https://www.dazn.com/en-US/news/boxing/tim-tszyu-vs-terrell-gausha-live-updates-results-highlights/e7oebl6e97321gw0qnkq5hpf1&ct=ga&cd=CAIyGjM5YWU2NzNiY2UyZGJkMGI6Y29tOmVuOlVT&usg=AFQjCNHGosceGeRNIh60CyFWy517wupUhQ