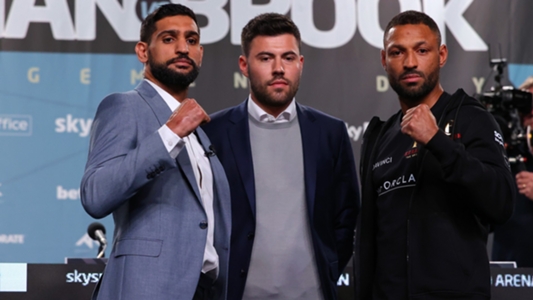 Amir Khan and Kell Brook spoke to the media for the final time before their fight on Saturday night.
Amir Khan and Kell Brook, along with their respective team, clashed in a heated final press conference before the two former world champions fight in Manchester on February 19th.
Khan said: "The beating he'll get is like nothing he's got before.
"All the talking he has done? We will put him in his place.
Editors' Picks
"Kell has always been obsessed by my career, like a fanboy. I live in his head.
"I can't wait to get in the ring and do a job on him."
Khan was also quick to claim that Brook has been obsessed with his career which has seen the Olympic silver medalist make a name for himself in the States.
"Jealously. I was fighting, travelling to America, my dream was to win a world title and fight at Madison Square Garden and have my face on the Vegas Strip.
"Kell was here. That's why the fight didn't happen.
"People say it's too late? The outcome of this will be huge. It is the right time."
When it came to a post-fight handshake, Brook believes Khan will not be able to engage in an act of sportsmanship after Saturday night's grudge match.
"The beating I'll give him, he won't be able to shake my hand. He won't have the energy," Brook said.
"I've always acknowledged his achievements. But he has never given me the same respect.
"I won't give you a handshake when I'm training to punch you.
"If you give the fans a good fight, I'll shake your hand. If you get chinned, I won't."
source
https://www.google.com/url?rct=j&sa=t&url=https://www.dazn.com/en-US/news/other/amir-khan-and-kell-brook-clash-in-final-press-conference/vga7wu14at9v1k075vycepu4y&ct=ga&cd=CAIyGjM5YWU2NzNiY2UyZGJkMGI6Y29tOmVuOlVT&usg=AFQjCNGJ_xxh7kq_QSLBk5Yw3PtGPlsbZQ