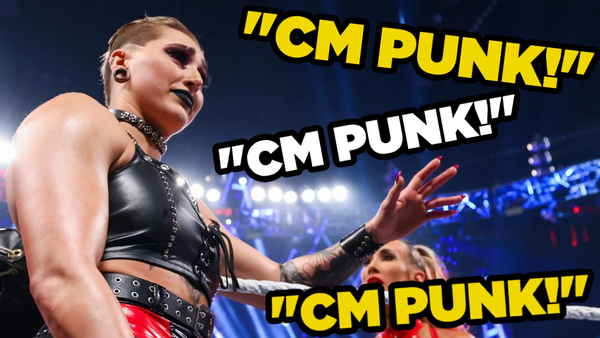 A couple of noticeable AEW-centric chants broke out during last night's WWE Survivor Series 2021 pay-per-view, as a far-from-shy Brooklyn, New York crowd went against the grain on more than one occasion.
The first example took place on the Kickoff Show. Though restricted to a handful of fans close to where the pre-show's panel sections were being shot, chants of "AEW!" were audible while Booker T was trying to make a point, with the relevant clip viewable here.
"CM Punk" chants arose during the traditional women's five-on-five elimination match later on in the evening. These were particularly noticeable during a sequence between Sasha Banks and Queen Zelina, though they were quickly drowned out by other members of the crowd, particularly when Banks found herself sharing the ring with Bianca Belair and the action (and interest levels) started to pick up.
Advertisement
Raw's 2 August 2021 episode was the last major WWE show to feature such rebellion from the live audience. That one was particularly notable as WWE's first live broadcast since Bray Wyatt's release, leading to chants of "we want Wyatt!" during a segment featuring Goldberg and Bobby Lashley.
Chanting CM Punk's name has been a ubiquitous sign of WWE crowd rebellion since the now-AEW wrestler left Vince McMahon's employ in 2014. It seems that even his return to wrestling can't quell them.
Advertisement
source
https://www.google.com/url?rct=j&sa=t&url=https://whatculture.com/wwe/wwe-survivor-series-2021-hijacked-by-34-aew-34-34-cm-punk-34-chants&ct=ga&cd=CAIyGjIxZjdhOWI5MTc2ODU5MjQ6Y29tOmVuOlVT&usg=AFQjCNE-8YKNZeKa97NNvSeJ6BDxU51q5g