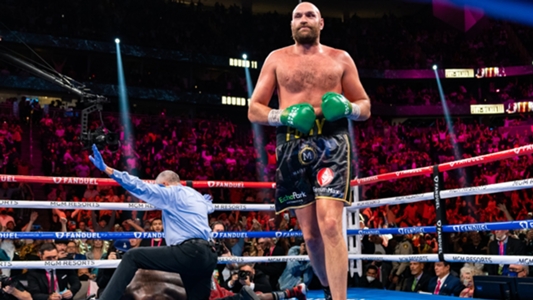 The WBC champion made the boast ahead of Tommy Fury's fight with Jake Paul.
Tyson Fury claims that he drank two pints of beer just before his 2018 fight with Deontay Wilder.
The WBC champion is currently training his younger brother, Tommy Fury, ahead of the light heavyweight fighter's bout with Jake Paul in Florida this December.
However, speaking to JOE ahead of the match-up, the older Fury suggested some unusual preparation methods of his own.
Editors' Picks
He suggested that visits to the pub will allow his sibling to relax while hitting the gym hard.
"It relaxes you when you're in training camp," Fury said.
"It teaches you not to be so strict, it teaches you to relax and enjoy and that's what it's about.
"Back in the past, men used to fight 20 or 30 rounds. They'd have a bottle of brandy before they went out there and had a fight. No one can tell me, not one nutritionist or conditioner and all this new science stuff today... men back in the day didn't have food to eat for three or four days and then fought 25 rounds. Today, we're a little bit softer than we were years ago."
Fury even said that he had a quick drink right before his 2018 bout with Wilder, which resulted in a draw.
"I've got that old school mentality," he explained.
"Before Wilder 1, I went downstairs and had two pints because I felt like it. Didn't do me any harm did it?"
source
https://www.google.com/url?rct=j&sa=t&url=https://www.dazn.com/en-US/news/boxing/tyson-fury-claims-he-drank-two-pints-before-deontay-wilder-fight-didnt-do-me-any-harm/k3h0a7vl388v1s0smisaehz0t&ct=ga&cd=CAIyGjM5YWU2NzNiY2UyZGJkMGI6Y29tOmVuOlVT&usg=AFQjCNG7bHtBM-buNe-vMRnYFq2V-wz_rg