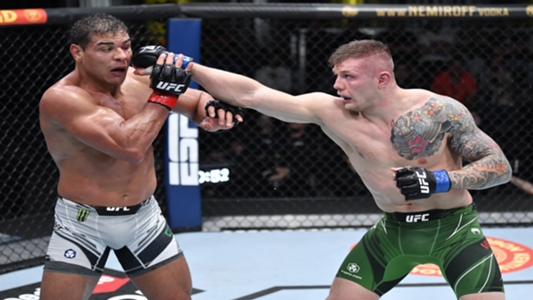 Marvin Vettori had to deal with a set of unfavorable circumstances heading into Saturday's UFC Fight Night headliner against Paulo Costa.
First, the Brazilian admitted on Wednesday that he was weighing 211 pounds for a 186-pound affair. Then, after some negotiating, a catchweight bout of 195 pounds was agreed upon, with Costa giving Vettori 20 percent of his salary. But one final twist happened late Thursday when Costa wasn't going to be able to make weight. So more talks between Vettori, the UFC, and Costa took place and the fight was set for a light heavyweight tilt.
Despite the unprofessionalism of Costa, Vettori overcame all those obstacles by continuously walking Costa down, throwing in volume, and landing more shots to win via unanimous decision (48-46, 48-46, 48-46) at the UFC Apex in Las Vegas.
Before the fight even began, Costa entered the Octagon and made a beeline towards Vettori. Thankfully, we didn't get a fight before the fight as security rushed in between so nothing would occur.
Costa came out with two powerful leg kicks. Costa attempted another kick and then stumbled to the ground, and Vettori tried to take advantage with strikes but was unsuccessful. Instead of just going to the legs, Costa started firing hard body kicks. Halfway through the round, Costa began to breathe heavy with his mouth wide open.
Vettori noticed the opening. He went and landed a flurry of punches as Costa turtled up trying to deflect the shots. Vettori got Costa's attention with a set of combinations as the round came to a close.
Vettori began the second like he ended the first — with more combinations and staying inside of Costa and making him exhaust all of his energy. It almost backfired as Costa flung a head kick, but somehow Vettori ate it and walked right through it. Costa upped his volume and exploded with rights, and left upstairs.
The momentum shifted again as with two minutes left in the round, Vettori scored a takedown. Costa got up, but moments later, he eye poked Vettori and was deducted a point after numerous warnings from referee Jason Herzog. In the final seconds, each guy threw the heavy artillery, with Costa having the slight advantage in connecting on the more severe blows.
Vettori was pressuring well to begin the third round. He's applying constant pressure and landing a straight right-hand time after time which caused a bloody nose to Costa. To the shock of many, with a 1:45 left, Costa secured a takedown of his own. Costa started messing around and looking for a submission. Vettori reversed and got into top position.
Just when Costa looked like his tank was nearing empty, he tossed up another head kick to begin the fourth round. Undeterred, Vettori continued to press forward and walk Costa down with a flurry of shots. Costa turtled up and then went to pounding the body. That didn't bother Vettori, who continued to throw in bunches.
Costa began the final round with a mighty right hand and a few more rights for good measure, understanding that he needed a stoppage. However, Vettori showed he had a granite chin and walked through the fire like it wasn't a big deal. Seeing that, Costa shifted course and went back to ripping the body. But the same thing happened as with the headshots, Vettori put his head down and fired back. The punishment started to take its toll in the final two minutes on Vettori as Costa pressed the action but to no avail. The final horn sounded. There wasn't any acknowledgment between the fighters as they went to their respective corners.
Vettori (18-5-1) got back on track after losing to middleweight champion Israel Adesanya at UFC 263 in June. Costa (13-2) has now lost back-to-back fights and could be in danger of getting cut after this defeat and the circumstance which went down earlier this week.
UFC Fight Night: Costa vs. Vettori main card results
Marvin Vettori def. Paulo Costa via unanimous decision (48-46, 48-46, 48-46)
Grant Dawson vs. Ricky Glenn go to a majority draw (29-28, 28-28, 28-28)
Jessica-Rose Clark def. Joselyne Edwards via unanimous decision (30-27, 30-27, 29-28)
Alex Caceres def. Seungwoo Choi via submission (rear-naked choke) at 3:31 of the second round
Francisco Trinaldo def. Dwight Grant via split decision (29-27, 27-29, 29-27)
Nicolae Negumereanu def. Ike Villanueva via TKO at 1:18 of the first round
source
https://www.google.com/url?rct=j&sa=t&url=https://www.dazn.com/en-US/news/mma/ufc-fight-night-results-marvin-vettori-overcomes-adversity-to-beat-paulo-costa/g2luiy8ic6mf1k3gziph1oibj&ct=ga&cd=CAIyGjM5YWU2NzNiY2UyZGJkMGI6Y29tOmVuOlVT&usg=AFQjCNGsXRw-JiK6IP5TeyqCOe2wfi9KJw