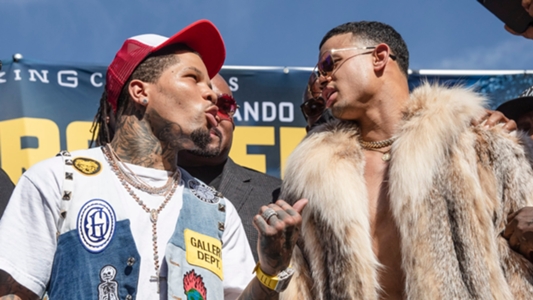 The two lightweights will meet in the ring on December 5
Rolando Romero launched a remarkable set of swearwords and insults in the direction of his next opponent, Gervonta 'Tank' Davis.
The lightweights fight on December 5 in Los Angeles, and faced off on Thursday at a press conference for the event.
"With the exception of the YouTubers and stuff. I might be the pay-per-view with the least amount of fights," said Romero, who has 14 fights to his name.
"You guys are gonna see I'm gonna knock this dwarf the f— out. That's how it is. You hear that? I'm gonna knock you the f— out. You know how it is."
Davis replied: "You scared," which prompted a mesmeric stream of offensive and florid invective.
"You think I'm f— scared," Romero began. "What the f— I got to be scared of? Man, you a stupid f— dwarf, man. I can't even miss with your f— head. It's so f— big.
"And your little T-Rex arms. My d— is longer than them T-Rex arms. I'm gonna knock this chump the f— out."
Despite his relative lack of experience, the challenger does not want for confidence.
"There's been world champions with less fights than me," explained Romero.
"I came into this sport at 17. I started late and I made the most out of what the hell I've done. Here I am, I'm 14-0 and now I'm fighting on pay-per-view.
"I'm here and I'm gonna knock Tank the f— out. Everybody's gonna see that s— and it's simple as that."
source
https://www.google.com/url?rct=j&sa=t&url=https://www.dazn.com/en-US/news/boxing/im-gonna-knock-tank-the-f-out-claims-rolly-romero/1tydd4vr2ecsd1or66kxywzvg8&ct=ga&cd=CAIyGjM5YWU2NzNiY2UyZGJkMGI6Y29tOmVuOlVT&usg=AFQjCNFqgcfCx4fiLsfmdin46mN8inVpBw