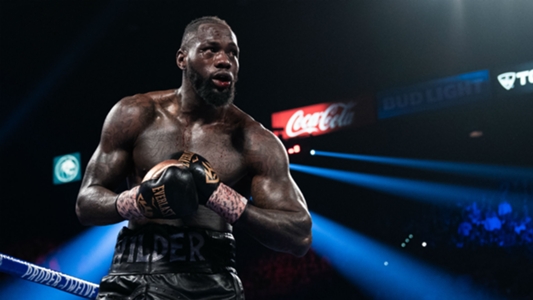 Deontay Wilder has overcome the disappointment of the delay to his trilogy rematch with Tyson Fury and thinks the wait is to his advantage.
Wilder chased down a third fight with the WBC champion when he went to arbitration to force through another bout, with Fury previously declaring he was 'walking away' from his contract with the Bronze Bomber.
A fight was initially set for July, but an outbreak of coronavirus in Fury's training camp, one which Fury with a victim of, led to the fight being put back to October 9.
Speaking on a conference call ahead of the fight, Wilder said the extra two months gave him more time to work with his new trainer, Malik Scott.
"The delay was a blessing, a blessing for me," Wilder said, reported BoxingScene.com.
"The more they delayed it, the more time we had to work on our craft and art, and to go over even more, strategically, go over the game plan that we're gonna have come October the 9th.
"It was a time of frustration because as a fighter, you're ready to go. You're ready to get back out there. And this is the longest I've been out of the ring, especially when I'm anxious to get in the ring."
With the contractual dispute and the delays caused by the coronavirus pandemic, Wilder explained he could not wait to get back into the ring for the first time since February 2020.
"It's just something about boxing that calls you," Wilder said.
"That ring just calls you there. Even when sometimes you may wanna give up, sometimes you may just wanna quit, or just say I don't wanna do it no more. It's just something about boxing, it just draws you back."
"Look at all the retired guys that are coming back, and they just wanna be a part of boxing. Boxing allows you to just stay part of it. But that time that we had, it has benefitted me tremendously, and I'm looking forward to October the 9th."
source
https://www.google.com/url?rct=j&sa=t&url=https://www.dazn.com/en-US/news/boxing/deontay-wilder-delay-to-fight-tyson-fury-is-a-huge-benefit/43p216le5fdy1czgdr2sakwhp&ct=ga&cd=CAIyGjM5YWU2NzNiY2UyZGJkMGI6Y29tOmVuOlVT&usg=AFQjCNFiqZU-iuMwW9cK9-WssXYswp_ZqQ