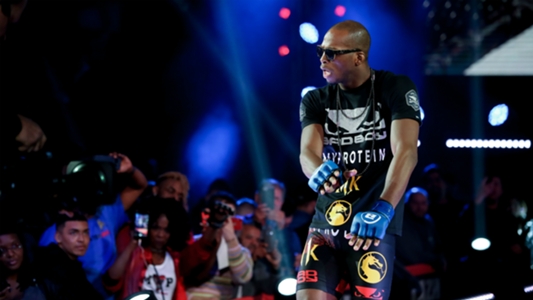 Michael Venom Page perched his right hand up high above Douglas Lima's head and into the formation of a snake during the Bellator 267 weigh-in Thursday.
For MVP to truly turn the Page forward to this rematch Friday at the SSE Arena, Wembley in London for a chance to inject that Venom, he has had to look back on the crushing defeat he suffered at the hands of Lima in their original meeting back in May 2019.
Hands down with a bounce in his step, Page was getting loose in his freestyle stance. One moment, he was springing forward with Superman punches, the other he was simulating dribbling a basketball between his legs — all in rhythm and within the flow of what Lima was giving him during the early moments of their fight.
But Lima taking MVP down halfway through that first round and keeping him on his back until the frame ended would serve as an ominous sign of things to come for Page.
The opening ticks of the second round had Page offering a spinning back kick and launching himself forward with a Superman punch to the temple that wobbled Lima. A flying knee attempt seconds later made MVP take a step back before trying another Superman punch … and then it happened.
Lima caught him mid-air with a leg kick that buckled Page and dropped him on his side. When he attempted to rise off the canvas, Lima greeted him with a devastating right hand across the face, instantly sleeping the British fighter. Two hammerfists followed but the damage was already done as Page suffered the first defeat of his career.
Page showered Lima with respect in the aftermath of the bout and returned to the cage three more times in September, November and December of that year to produce three knockouts of his own. Two more victories would follow including a first-round TKO against Derek Anderson this past May. And now MVP brings that five-fight winning streak against Lima, seeking to avenge his lone loss.
The question heading into Friday is can MVP defeat Lima using his creative, freestyle form of striking or does he need to fight with a more disciplined style with his hands up in a high guard and striking while keeping a healthy space from the Brazilian?
Well, Page conceded during the Bellator 267 media gathering that he needs to be a more "complete" fighter.
"I love striking and prefer that, but if I am not capable anywhere else, it takes away from my striking," the 34-year-old said, as shared by a Bellator press release email. "If I get taken down and can't get back up, then what does my striking do? I need to be well-rounded in order to be complete. I actually enjoy Jiu-Jitsu, though. It allows my creative personality to flourish."
Since their May 2019 clash, Lima has gone 1-2 in the cage inclding a victory over Rory MacDonald to win the Bellator Welterweight World Grand Prix and the welterweight title to go with it. But he has followed that with back-to-back losses to Gegard Mousasi and Yaroslav Amosov. And Page isn't impressed.
"I have evolved, (Lima) is stuck in his ways," Page also offered via Bellator. "Since we last fought, he has not done anything in his fights that shows me he is different or got better. On the other hand, I have evolved and changed my diet and training to become a completely new, faster, and better fighter."
That makes Page want to to press the issue Friday night.
Part of the media session had the confident British fighter saying he's "petty" and wants to return the favor to Lima.
Whether he can do it in the flow of his style remains to be seen.
source
https://www.google.com/url?rct=j&sa=t&url=https://www.dazn.com/en-US/news/mma/bellator-267-can-michael-venom-page-avenge-his-loss-to-douglas-lima-using-his-same-fighting-style/1qv0w8j8joip41677nltpsroic&ct=ga&cd=CAIyGjM5YWU2NzNiY2UyZGJkMGI6Y29tOmVuOlVT&usg=AFQjCNEhFcpxJ_MWL0-a5V-Aip6s9mFkaQ