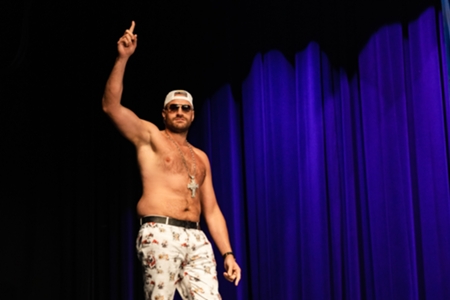 Tyson Fury refused to goad Anthony Joshua over his defeat to Oleksandr Usyk and said he was 'absolutely wounded' that his fellow Briton lost.
Fury had originally been slated to fight Joshua for the chance to become the undisputed heavyweight champion in Saudi Arabia this year.
However Deontay Wilder was able to force a trilogy rematch for October 9 and any fight between the two UK fighters required them to defend their belts.
Editors' Picks
Joshua has failed and while Fury remains favourite against Wilder, any undisputed clash between any two fighters now appears a way off.
Speaking to reports in an online conference call, Fury explained that he was focusing on his own task at hand but he had no wish to insult Joshua as he had done when he was riding high.
"I can't be thinking about what happened in other fights," Fury explained.
"I can only think about me. I know it's selfish, but it's a very selfish game that I'm in. So, I haven't really thought about Usyk or Joshua. One thing I will say, though, while everyone's listening, is I've got no interest in slating anybody, you know, or kicking anybody while they're down.
"It ain't my style. I like to pick on someone who's doing well, successful, on top of the game. I don't like picking on people who are down and probably at their lowest point and probably mentally unstable or unwell, when they've lost after such a long reign.
"So, you know, Usyk done his job. He had to do what he had to do. And that's that. And Joshua's gotta do what he's gotta do. But like I said, none of my real business. Can't say I'm interested because I've got 'The Bronze Bomber' to deal with. And then whoever's next, we'll deal with them, just like I've done with my other 31 opponents I've already faced."
The WBC champion also admitted that he was disappointed to see the defeat, presumably in part because it costs him what could have been tens of millions of pounds for any undisputed fight with Joshua.
"He won his fight. Good luck to him. There's not much to express. Did I watch the fight? Yes, I did. Was I absolutely wounded that he won? Yes, I was," he admitted.
"I was hoping Joshua could win the fight, but he couldn't, and that's none of my business."
source
https://www.google.com/url?rct=j&sa=t&url=https://www.dazn.com/en-BN/news/boxing/tyson-fury-refuses-to-mock-anthony-joshua-after-oleksandr-usyk-defeat/r79ah4pb360m1t9wz2hjbktmk&ct=ga&cd=CAIyGjM5YWU2NzNiY2UyZGJkMGI6Y29tOmVuOlVT&usg=AFQjCNEYOwAFO0mj_stm-tscFNgXgHGaRA