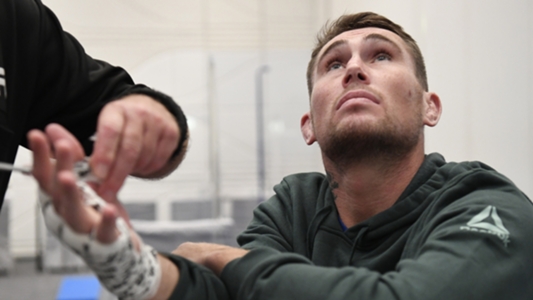 Darren Till is liable to post anything on his Instagram account — from sitting on the toilet to his twisted, line pushing "#Positivity" posts and practically any and everything in between. Anything to get a chuckle out of his 1.4 million followers.
"I'm me. I'll always be me," Till tells DAZN News. "It's sometimes a good thing, sometimes a bad thing but if I see something I like — sometimes it's controversial — I just like posting things to get a buzz or laugh out of them or they think it's funny. In no way, shape or form am I trying to offend people."
But if the 28-year-old Liverpool, England native sees something he likes as he mentioned, chances are he's going to let it fly on social media. And he's taking that same philosophy and applying it to the Octagon. Having lost three of his last four fights and heading into the UFC Fight Night main event Saturday against a Derek Brunson, who has won four straight, Till has been able to pinpoint a fault to his fight game that he believes he has been able to seal through training.
A unanimous decision loss to Robert Whittaker during his last time out in July 2020 especially put the spotlight on that flaw for Till.
"I feel like I was on the brakes a little bit too much," Till says. "If I let my foot off the brake, I feel like I could have progressed more and done more damage. But listen ... you learn. We're around the same age. Hopefully, we'll meet again."
Until then, Till believes he needs to be just as free in the Octagon as he is on IG.
"I think I've learned to just let my hands go, be a little more, how you say, active," Till explains further. "That's what I learned from most this last year. I've worked on a little bit more aggression and letting my hands just flow and vibe, so hopefully everyone is going to see that Saturday night.
"Well, not hopefully ... you are going to see it Saturday night."
Till may need an uptick of aggression and striking volume to unseat a 37-year-old Brunson, who has been experiencing a fighting renaissance as of late. Since being picked apart in an explosive first-round TKO loss to Israel Adesanya back in November 2018, Brunson has rattled off four consecutive victories including a unanimous decision win over Kevin Holland in March. Even Till tips his cap to the veteran.
"I'm enjoying this streak," says Till about Brunson's latest batch of wins. "He seems to be getting better with age. I don't know if he might be slowing down now that he's fighting me. I'm younger in age than (most of) the other guys he's fought. But he's on a roll. He looks strong, he looks healthy. He seems to be in a good frame of mind. I'm loving his body of work."
Till enters the bout looking up at Brunson in the middleweight standings with the UFC slugging him seventh to his opponent's fifth, knowing what a convincing, impactful victory could mean for him.
"When I go out there Saturday and stop Derek Brunson in the third round or the second, it's going to put me right to the top of the top of the top," Till says bluntly. "What's next? I don't know. But let's hope good things are next. The sun will be shining Saturday night. I can't wait."
For Till, his words derive from a larger, overflowing fountain of fervor that he's drawing from these days.
"It's just a willingness to be the best," he says. "I just want to be one of the best fighters alive and that's my goal. I wake up every day with a purpose and that's my purpose. I don't do anything else. I got little businesses that I'm invested into, but ultimately the main goal, the main focus of my life when I wake up is sustaining and a willingness to learn and be the best. That's what this whole journey is about, man.
"I'm going to leave it all in there Saturday night," he vows. "Saturday night is my time to shine."
source
https://www.google.com/url?rct=j&sa=t&url=https://www.dazn.com/en-US/news/mma/darren-till-takes-cue-from-wild-instagram-posts-and-aims-to-let-fists-fly-against-derek-brunson-at-ufc-fight-night/h9zc1io2d1j21c2ceniwyvdhf&ct=ga&cd=CAIyGjM5YWU2NzNiY2UyZGJkMGI6Y29tOmVuOlVT&usg=AFQjCNHADeB9TllGQDInU2tstnB3PprXmg