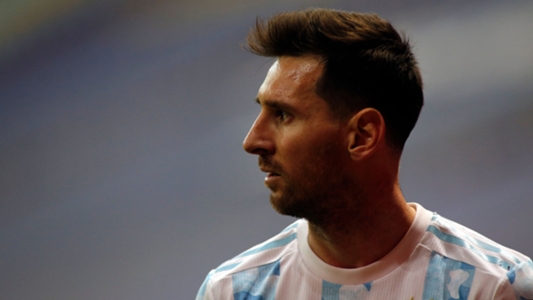 What a summer it's been for Lionel Messi.
After finally claiming his first senior international trophy when he led Argentina to the Copa America title in July, Messi now stands as arguably the most eligible free agent in the history of soccer — or perhaps any sport.
It was thought that the 34-year-old would find a way to re-sign with FC Barcelona — the only professional team he's played for — but on Thursday the club dropped the bombshell that the two sides would not be able to agree on financial terms, thus ending their epic two-decade run together in the European top flight.
Ignoring the cynical possibility that Thursday's announcement is just a ploy by Barca to pressure La Liga into making more favorable rules for the Blaugrana (and, presumably, fellow mega-club Real Madrid), we can now consider the increasingly realistic possibility that Messi will be suiting up for another team within a few weeks' time.
In the spirit of a similar piece that was published here just under a year ago when it looked like Messi would be able to pull the plug on his relationship wth Barca, here are a few possible destinations, ranked by likeliness.
The Contenders
Paris Saint-Germain
A Messi reunion with Neymar is the stuff of fans' dreams, and the French giant is well within its financial means to pull it off.
Last year, PSG was firmly in second place in the Messi sweepstakes as it appeared as though Pep Guardiola and Manchester City had the inside track, but this summer sees the Parisians as the odds-on favorite to land Messi's lucrative signature should he actually move.
A front three of Messi, Neymar and Kylian Mbappé is positively mouthwatering, but it's still just the stuff of fantasy. For now.
Manchester City
The aforementioned Sky Blues will always be among the teams mentioned whenever a possible big-money deal with a mega star is involved, solely because they are one of the few teams with the bank account to make it happen.
As noted, Messi to Manchester was closer to reality than fiction just 12 months ago, with Guardiola keen to add the best player he's managed to City's impressive stable of players. But legalities scuttled that deal, leaving City fans to wonder if the issue would be revisited this year when Messi became a free agent.
Well, he's a free agent now, but City has just spent a ton of money bringing in Jack Grealish and Guardiola said that the move makes landing Messi an improbability.
"We spend £40m on Grealish, £100m we pay and £60m we won [from incoming transfers], and he will wear No. 10," Guardiola told reporters Friday. "We were incredibly convinced on Grealish and convinced Messi would stay at Barcelona.
"Right now, it's not in our thoughts. Absolutely not. It was a surprise. [Barcelona president Joan] Laporta was clear today about the reasons.
"As a supporter [of Barcelona], I'd love him to have finished at the club. I've just incredible gratitude for the most extraordinary player I've seen in my life."
The Longshots
Newell's Old Boys
As we mentioned last year, Messi is on public record that he will return to his boyhood club before properly hanging up the boots, but there's simply too much money to be left on the table by heading back to Argentina right now.
Inter Miami
David Beckham's MLS team gets mentioned as a destination for every high-profile 30-plus star, mostly because footballers seem to be drawn to Miami like moths to a flame.
But while soccer players will continue to call Miami their offseason home for years to come, the Phil Neville-coached club is currently in no position to bring in any big name player — let alone someone of Messi's stature. MLS rules limit the number of off-salary cap players any team can have at a given time, and Miami's already run afoul of those regulations and earned sanctions from the league office that will severely hamper the club's ability to sign players to hefty salaries for the next two seasons.
So no, Messi won't be lining up alongside old Argentina running mate Gonzalo Higuain any time soon.
source
https://www.google.com/url?rct=j&sa=t&url=https://www.dazn.com/en-CA/news/soccer/which-teams-could-lionel-messi-join-after-leaving-barcelona/jw57f7ga0sno1ojw7sft5wrvi&ct=ga&cd=CAIyGjM5YWU2NzNiY2UyZGJkMGI6Y29tOmVuOlVT&usg=AFQjCNFsyAwiLzVNKz0WgwLpJq6d74V6vg