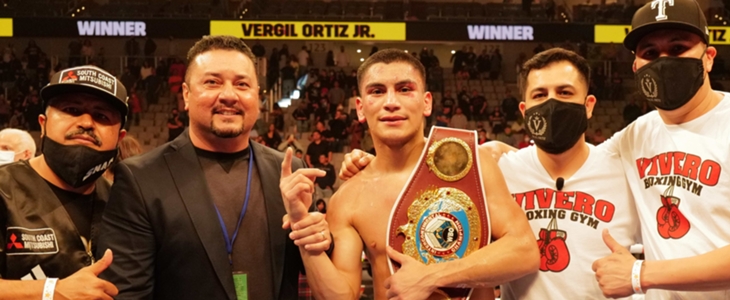 It's eight days before Vergil Ortiz Jr. takes another step up in competition when he clashes with former welterweight title challenger Egidijus "Mean Machine" Kavaliauskas on Saturday. The budding star is rolling through a series of interviews to promote the fight at Ford Center at The Star in Frisco, Texas, exclusively on DAZN. Ortiz is talking with DAZN News about being able to handle the pressure of another high-stakes fight in his home state and fighting in the main event slot for the second consecutive time when he makes an intriguing statement.
"It doesn't feel like pressure to me," Ortiz told DAZN News. "It just feels like motivation. As far as being focused, that's all I do. There's really nothing else for me to not be focused on. I got the guitar, but I do that on my free time. I don't even do it as long as I do boxing. I do it for maybe like an hour or two, and that's it. I don't go out. I do nothing. So staying focused is easy."
When the 23-year-old brings up the musical instrument, he brings it next to him and starts playing "Europa" by musical legend Santana.
"I love Santana," Ortiz admits.
Most fighters enjoy time with family in their free time outside the rigors of training for an important fight. But, for Ortiz, it's playing the instrument he's loved since the fifth grade because it allows him to relieve the stress involved with being a championship fighter.
"Honestly, I just feel like everyone likes music," Ortiz said. "You can leave your mark on music whether it be big or small. I made a song, and just me knowing that I was capable of making a song even if I don't think it's that good. It's like, 'Dude, I made that.'
"I got my first guitar after the fifth grade," Ortiz continued. "I just messed around with it, just doing whatever I could. Then I started playing it a lot in high school. Then this year, I got a new guitar and really started taking it seriously."
When he isn't ripping a chord or creating an unnamed song, Ortiz's first love and passion is the sweet science. He's undefeated in 17 fights, winning all of them via knockout. His most challenging test to date was in March, when he stopped former WBO junior welterweight champion Maurice Hooker in the seventh round.
Now, he gets the man who arguably sent current WBO welterweight champion Terence Crawford to the canvas in their December 2019 fight before getting stopped via ninth-round TKO and suffering his first career defeat. The consensus is "Mean Machine" is a tougher out than Hooker. Ortiz isn't sure about that assessment just yet.
"Tough is a strong word," Ortiz concludes. "It can go different ways. Does he hit harder? Can you take a punch better? You just never know. But does he look a little meatier, a little bigger? Yeah, I would say that."
There is a logjam right now in the welterweight division. Manny Pacquiao was supposed to face Errol Spence Jr. on Aug. 21, but the unified titlist had to bow out due to a retinal tear in his left eye and was replaced by WBA (super) titleholder Yordenis Ugas. Crawford is expected to face Shawn Porter in the fall, and it is unknown when former champions Danny Garcia and Keith Thurman will return to action. However, the Texas native feels he's already in the conversation among those names, and a win over Kavaliauskas would put him over the hump.
"You got Spence. You got Pac. You got a Crawford-Porter. Danny Garcia is not in the mix anymore. You got Thurman, but Thurman hasn't fought in two years," Ortiz said. "I don't even know if it's safe to include them in the top 10 anymore. I would say (I'm not) that far behind at all. I would be maybe like five or six, no more than seven in my opinion.
"I feel like I'm more than ready for a world title shot if I get a win," Ortiz continued. "Not only does it prove that I'm ready, but they can't tell me no anymore. You can't keep pushing a fighter, 'Oh, fight this guy'."
source
https://www.google.com/url?rct=j&sa=t&url=https://www.dazn.com/en-US/news/boxing/vergil-ortiz-jr-talks-playing-the-guitar-what-a-win-over-mean-machine-would-do-for-his-career/w5uujgmpcv581mwxc6k2mdhm9&ct=ga&cd=CAIyGjM5YWU2NzNiY2UyZGJkMGI6Y29tOmVuOlVT&usg=AFQjCNHLYSr2AjpWVrKtF1ikiITrPC_Urw