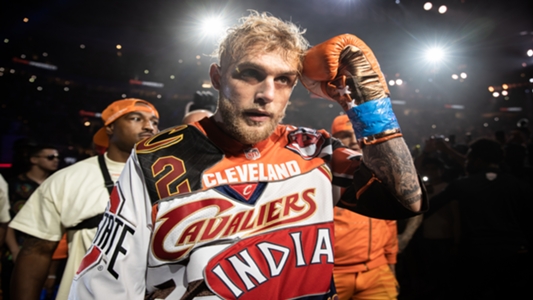 CLEVELAND — The growing sentiment had been that if Jake Paul beat Tyron Woodley and Tommy Fury took care of Anthony Taylor on Sunday, a matchup would occur between the two.
Fury was the first bout on the main card, and he underwhelmed in beating Taylor, Paul's sparring partner, and undersized MMA fighter, via unanimous decision. Paul held up his end of the bargain in the main event, beating Woodley via split decision. After the card had concluded, Fury was in the bowels of the arena when Paul came through the hallway. They got in each other, and immediately security intervened while Paul and Fury exchanged words about the performance of the other.
"I was doing an interview down there, and his whole team landed, Jake Paul squaring up to me," Fury said at the post-fight presser, which included DAZN News.
"But then he's seen me at ringside, I was leaning over the ropes, waiting to get in there, here was Logan (Jake's brother), 'No, no, not right now'. They ain't fighters."
Paul was short on the matter.
"The guy really had nothing to say," Paul said.
Editors' Picks
Fury was specifically put onto the card with the hopes of a fight that sources have told DAZN News would occur at the end of 2021. However, with the lackluster showing from the 22-year-old, Paul wants to take a wait-and-see approach before deciding whether he wants to battle Tyson Fury's half-brother.
"He had a mediocre performance against my sparring partner. All credit to Anthony Taylor. He's a tough guy. But Tommy Fury is supposed to be this tough, big, bad guy, legendary bloodline. I got in his face, and I let him talk. I don't really have anything to say to him. At the end of the day, I hired him to be here. I gave him an opportunity to shine. I don't have any bad blood.
"Will we see that fight? I'd run that shit easy. That's an easier fight than Tyron, in my opinion. But, who knows.
"If he sold a lot of pay-per-views in the UK and we're impressed with the numbers, sure. But I put him on this platform, so we'll see what happens."
Paul had a tougher fight than many expected, going the distance for the first time in his pro career. The 24-year-old also had a shaky moment when Woodley rocked him in the fourth round and nearly sent him through the ropes before recovering to run his record to 4-0. Because of what happened in the first half of the fight against someone boxing for the first time, Fury is of the feeling Paul is going to avoid him at all costs.
"He took one good shot in a boxing ring, and if Tyron would have pressed on a little bit through them rounds, Jake Paul would have been out of there," Fury said. "Now, this is probably why you won't see me and next."
source
https://www.google.com/url?rct=j&sa=t&url=https://www.dazn.com/en-TW/news/boxing/jake-paul-vs-tommy-fury-discuss-backstage-altercation-and-potential-matchup/aryye1wuult913p1zb7z0shah&ct=ga&cd=CAIyGjM5YWU2NzNiY2UyZGJkMGI6Y29tOmVuOlVT&usg=AFQjCNEloVOl-vETIGQha98Zfs4W7mhwPA