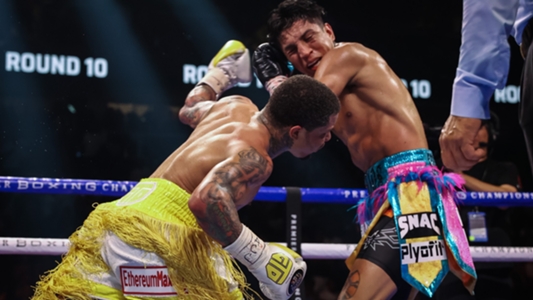 'Tank' has fought across several divisions and has yet to come unstuck
After seeing Gervonta 'Tank' Davis comfortably beat Mario Barrios at 140lbs, the DAZN Boxing Show considered where the versatile fighter is at his best.
Davis is now the WBA interim champion at super lightweight but there is no guarantee he will remain at the weight, and has already been mooted as Ryan Garcia's next opponent.
Speaking on the show, Barak Bess suggested that moving down another 130lbs would give Davis the chance to pick up some belts.
Editors' Picks
"The guy just showed that he has pop at 140 pounds he showed us that he got some power at 135," he began.
"He only fought Gamboa and was skillful at hanging on. I just think he's super-talented and he can actually fight at any one of those weight divisions.
"If I really had to give one weight class it is 130 - go back down to 130 and fight those champions."
Akin Reyes, however, thinks an extra five lbs would suit 'Tank' and open up some high-profile opponents.
"I felt like even though he had success against Barrios, yes, he's an extremely talented fighter, I think he doesn't have to struggle with that size," he said.
"Especially right now in this career. I think 135 will be ideal for Davis, I think he would thrive in that division.
"So that's a division I want to see him in that would be best for us. We needed him at 135 and we got Lomachenko back in the mix. I love that, it'd be crazy."
source
https://www.google.com/url?rct=j&sa=t&url=https://www.dazn.com/en-US/news/boxing/what-is-the-best-weight-division-for-gervonta-tank-davis/1waa6dceg0yu91xscqkeq7wovp&ct=ga&cd=CAIyGjM5YWU2NzNiY2UyZGJkMGI6Y29tOmVuOlVT&usg=AFQjCNFIyLQefKMvErs_vdAZrXMZvxi5Mw