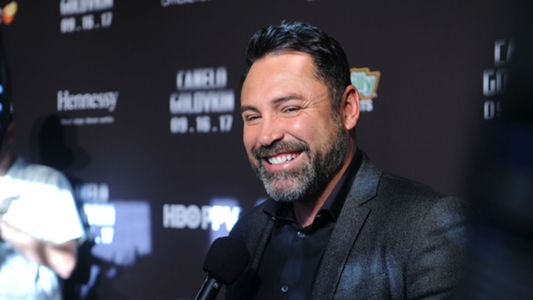 World-renowned boxers returning for seniors exhibitions is all the rage.
Oscar De La Hoya faces former UFC star Vitor Belfort in the latest eye-catching boxing crossover spectacle in September, and the growing trend of returning legends and debutants from other sports has another retired former world boxing champ considering getting involved down the line.
Ricky 'Hitman' Hatton was one of Britain's most beloved fighters, ultimately retiring after high-profile losses to Floyd Mayweather Jr. and Manny Pacquiao. He then announced a comeback three years after the KO at the hands of 'Pac-Man', hoping to write a more positive final chapter for his in-ring career. However, he was stopped late in the fight by Vyacheslav Senchenko, in front of his own in Manchester.
Nonetheless, with De La Hoya looking to rematch Mayweather as fortysomethings (their initial high-profile took place months prior to Mayweather vs. Hatton), the Brit suggested in his Metro column that he could give 'The Golden Boy' what he wants.
Editors' Picks
"I'll have a move about with Oscar De La Hoya if the opportunity comes," wrote Hatton.
"Oscar was a hero to a lot of people in boxing so it would be interesting even if it is only an exhibition. To share the ring with him and find out first-hand how good he was and maybe still is.
"It looks like he might be fighting former UFC fighter Vitor Belfort now but there is any number of boxers who would want it if Oscar keeps talking about it. Miguel Cotto would be a good one, Shane Mosley still looks after himself.
"The list goes on, me and Cotto, me and De La Hoya, De La Hoya vs Juan Manuel Marquez maybe! There are so many more. And I think I speak for all fight fans when I say we'd love to see a couple of these."
Hatton's son Campbell has made his pro boxing debut and the 2-0 prospect will compete in his third bout during the upcoming Matchroom Fight Camp series, which airs live on DAZN including in the UK and Ireland.
source
https://www.google.com/url?rct=j&sa=t&url=https://www.dazn.com/en-CA/news/boxing/ricky-hatton-says-hed-face-oscar-de-la-hoya-in-legends-fight/411cs5p1rsip1eg9ggjjl7ya6&ct=ga&cd=CAIyGjM5YWU2NzNiY2UyZGJkMGI6Y29tOmVuOlVT&usg=AFQjCNFatnih3wrFKco1DFeZro3YP3Z6Uw