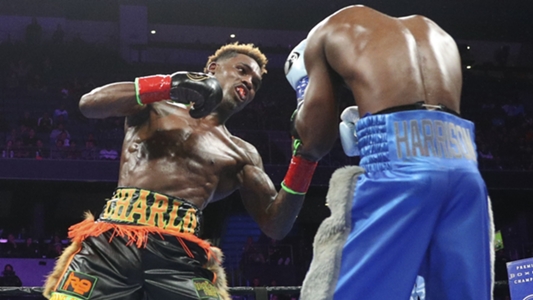 There was a time following the Charlo brothers' pay-per-view doubleheader on Sept. 26, 2020 that their ultra-competitive nature created tension and distance between each other.
Well, call it a twin's intuition but in the days leading up to Jermall Charlo's June 19 victory over Juan Macias Montiel, Jermell Charlo sent an olive branch to his splitting image via a text message.
That icebreaker paved the way for Jermell to make a 45-minute drive across Houston to reunite with Jermall, as the world boxing champion twins linked back up by getting a run in — footage that was captured by Showtime's All Access in a recent episode.
Jermell was by Jermall's side, as the WBC middleweight world champion defeated Montiel by unanimous decision to rack up his fourth successful title defense. Now, Jermall will return the favor and be by Jermell's side, as Jermell, the unified WBA (Super), WBC and IBF junior middleweight world champ, looks to attain undisputed glory Saturday night against WBO titleholder Brian Castano at the AT&T Center in San Antonio, Tex.
In many ways, the distance between the brothers served as a missing link in Jermell's life.
"It just made me fight harder, made me work harder, made me want to be the best that I could be," Jermell told DAZN News earlier in the week. "My issues and his issues, just time away from each other ... sometimes it's the best time."
But now that they've been reunited, Jermell hopes that airing out their family business so candidly for the world to see helps other families going through similar problems with their loved ones as well.
"I don't know how important it is but I know it touched a lot of people that might have issues with their family," Jermell said.
He added that he also hopes people learn to not take family and friends for granted.
"You don't always get these people back," he continued, "so you got to hold them tight.
"Thanks to my mom, she's always been the one trying to push us to fix up our drama."
Can Jermell Charlo become undisputed champion?
Running with this theme of missing link fulfillment, Jermell bolstered his training camp with the addition of former two-division world champion Joan Guzman, adding him into the fold with trainer Derrick James, who also trains unified world welterweight champ Errol Spence, to make his fight game completely airtight.
That added wrinkle has Jermell promising to unveil new tricks Saturday night, when he attempts to become the first man to become undisputed ruler at 154 pounds in the modern four-belt era.
Over at the Charlo household, the 31-year-old has fulfilled another missing link in the form of the family's newest addition, Jermell Jr., his infant son, who's just over a month old.
Yes, that same "Lions Only" mantra that the Charlos evoke, extends to cubs as well.
For that same All Access episode that has him reuniting with Jermall, has Jermell on doting dad duty, changing his son's diaper and whispering sweet words to the then-10-day-old baby.
"He's made my life a lot easier," Jermell says of his son's presence the impact he's had on him. "He's made my life a lot better. He makes me just warm. I love it.
"It brings a lot of fire."
That fire will come to a head Saturday night, when Jermell vies for another missing link — the hallowed grounds of undisputed acclaim.
source
https://www.google.com/url?rct=j&sa=t&url=https://www.dazn.com/en-GB/news/boxing/jermell-charlo-hopes-easing-rift-with-twin-brother-jermall-helps-other-families-in-dispute/1qs721qvxksrxzm23pz1as0z6&ct=ga&cd=CAIyGjM5YWU2NzNiY2UyZGJkMGI6Y29tOmVuOlVT&usg=AFQjCNEHQlagOROs_M5dzkfXUwwq7cBJRg