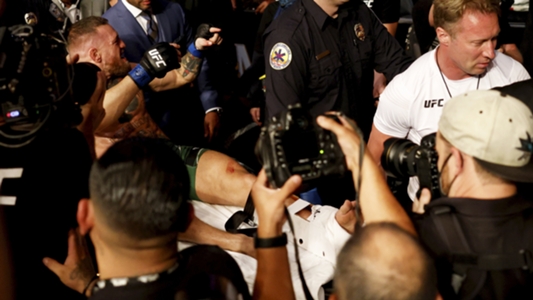 Conor McGregor made sure to bellow a war cry with his back up against the Octagon and while seething through the pain and frustration of suffering a lower leg fracture Saturday night.
"This is not over!" 'Notorious' said moments after a doctor's stoppage rewarded his heated rival Dustin Poirier with a first-round TKO victory in the main event of UFC 264 in Las Vegas.
Love him or hate him, McGregor is right. It's not over between he and Poirier. Not by a long shot.
Editors' Picks
UFC 264 was supposed to be the grounds for the Poirier-McGregor rivalry to be settled with a final trilogy fight. And for several tense, edge-of-your-seat moments, it looked like MMA fight fans and critics alike were going to get long-awaited closure in this series, which was knotted at one win apiece entering Saturday night.
McGregor came out asserting a fluid display of spinning back kicks with a calf kick of his own to boot, reversing the narrative from their January rematch, which had Poirier using the same weapon of choice. Poirier was able to wriggle free from McGregor's ill-advised jump guillotine attempt and made the Irish superstar pay with vicious, heavy elbows and punches. Though in bad shape from the attack, 'Notorious' was able to get back on his feet as we all anticipated another action-packed round.
Then ... it happened.
McGregor rolled back on his left ankle, suffering a lower leg fracture and we went from the brink of being satiated to an anticlimactic ending without closure.
However, the words spoken by Poirier and McGregor in their respective post-fight interviews with Joe Rogan immediately laid the groundwork for a fourth fight.
"Karma's not a b—ch," Poirier said after mocking McGregor's strut, "she's a mirror."
That stinging quote was in reference to McGregor vowing that he'd kill Poirier in the trilogy and that 'The Diamond' would be stretchered out of T-Mobile Arena — only for 'Notorious' to exit the site strapped to a stretcher.
Though his body unexpectedly failed him, his serpent's tongue was still able to spew hot venom. And that was more than enough for McGregor to handle the rest.
"Your wife's in me DMs," McGregor said, further entrenching the bad blood between the two, as an exiting Poirier had to be held back.
At this point, Poirier is a more heated rival to McGregor than even Khabib Nurmagomedov. In the 'Notorious' one's eyes, Poirier needs to be. The image of McGregor on his backside against the fence after being rained down on with elbows and punches — and appearing like he could take a second stoppage loss the hard way — doesn't bode well for his warrior mentality and the no holds barred barbs he hurls. He needs a fourth fight with Poirier. And soon.
Sure, he'll need to recover fully from this injury first and might be subjected to watching Poirier vie for the lightweight title against champion Charles Oliveira in the interim. But regardless of that result, McGregor needs a fourth scrap with Poirier for the closure that he and MMA were robbed of at UFC 264.
Dana White said as much during the post-fight press conference.
"It sucks, it's brutal, it's not the way you want to see fights end.
"Dustin Poirier will fight for the title and when Conor's healed and ready to go, he'll do the rematch I guess. I don't know."
White added that McGregor will have surgery Sunday morning.
Poirier, too, is already anticipating a fourth fight with McGregor. The vitriol is just too thick at this point for it not to happen.
"We are going to fight again," Poirier said, "whether it's in the Octagon or on the sidewalk."
And when that time rolls around, maybe, just maybe , we'll finally find out whether pressure from 'Notorious' can break 'The Diamond' definitively the way McGregor's mouth has promised.
source
https://www.google.com/url?rct=j&sa=t&url=https://www.dazn.com/en-ES/news/mma/conor-mcgregor-is-right-feud-with-dustin-poirier-is-not-over/xytk1twr57zn1h0dwayfzi841&ct=ga&cd=CAIyGjM5YWU2NzNiY2UyZGJkMGI6Y29tOmVuOlVT&usg=AFQjCNHNEuNgB5CEi4BDe-LAJpcg1gXeBQ