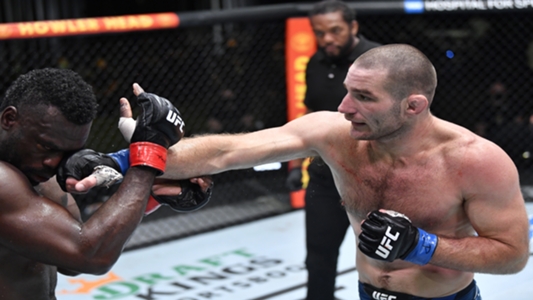 Sean Strickland understood the significance of his UFC Fight Night main event on Saturday against Uriah Hall.
He knew a win over the No. 8-ranked middleweight would be his highest-profile win in his new weight class and would continue his march toward championship gold. The No. 11-ranked Strickland delivered in his first UFC headliner, dominating Hall from start to finish with constant pressure and volume to win a lopsided unanimous decision (50-44, 50-45, 49-46) from the UFC Apex in Las Vegas.
"It was an honor to fight Uriah. I appreciate the battle," Strickland said in his post-fight interview.
Each guy came out being aggressive by firing jabs at will. Strickland dictated the pace and kept walking Hall down and blasting one stiff jab after another. About halfway through the round, Strickland staggered Hall with a right hand but failed to take advantage of the situation. During the final minute, Hall finally got going by cracking Strickland with two hard overhand rights.
Hall took the momentum from the previous round and brought it into the second. He began leading the dance, popping the jab and connecting on a combination. All that did was fire Strickland up. He wobbled Hall with a variety of his own output to back him into the cage. Hall began to turn the tide by being the aggressor, making Strickland move back with leg kicks and the jab. Hall threw a spinning back kick to the midsection right before the horn to send Strickland to the cage.
Hall set the tone to begin the third round. He was switching stances, throwing jabs that were snapping Strickland's head back, and then proceeded to go to the body. In a flip of the switch, Strickland regained control by landing a right hand behind the ear and then took Hall down. He uncorked a barrage of hammerfists and appeared to be moments away from a stoppage win. But Hall crawled toward the cage and made it back to his feet. It didn't last long as Strickland dumped Hall right back down to the canvas. Strickland was talking trash to Hall while looking for a submission. He transitioned to Hall's back, looking for a rear-naked choke but ran out of time.
Even though he was down in the fight, Hall didn't give up. He went back to throwing leg kicks and left hands. Strickland remained calm and went back to his bread and butter in firing the jab and sliding out of the way to avoid a counter. A little over a minute to go, Strickland wobbled Hall with another stiff left jab. Seeing he had Hall in danger, Strickland went for it and landed another flurry of shots to open a gash at the corner of Hall's eyelid but again ran out of time.
Knowing he needed a finish, Hall came out blazing fast with a hard right and left hands. Strickland halted the momentum for a moment, clipping Hall with a right hook. After that, Strickland just continued to come forward with pressure, putting all of his weight on Hall against the cage so he couldn't attempt a Hail Mary comeback.
Strickland (24-3) has won five consecutive fights overall, with the last four coming at 185 pounds. The victory should insert him into the Top 10 when the next set of rankings are released.
For Hall (17-10), his four-fight winning streak was snapped.
UFC Fight Night: Uriah Hall vs. Sean Strickland fight results
Sean Strickland def. Uriah Hall via unanimous decision (50-44, 50-45, 49-46)
Cheyanne Buys def. Gloria de Paula via TKO at 1:00 of the first round
Jared Gooden def. Niklas Stolze via TKO at 1:08 of the first round
Melsik Baghdasaryan def. Collin Anglin via TKO at 1:50 of the second round
Jason Witt def. Bryan Barberena via majority decision (28-28, 29-27, 29-28)
source
https://www.google.com/url?rct=j&sa=t&url=https://www.dazn.com/en-US/news/mma/sean-strickland-dominates-uriah-hall-to-extend-winning-streak-to-five/1pexkr3f7a9z711021nsduh3z8&ct=ga&cd=CAIyGjM5YWU2NzNiY2UyZGJkMGI6Y29tOmVuOlVT&usg=AFQjCNF_rGVkxn1Mko8309XeOq3R8lukhA