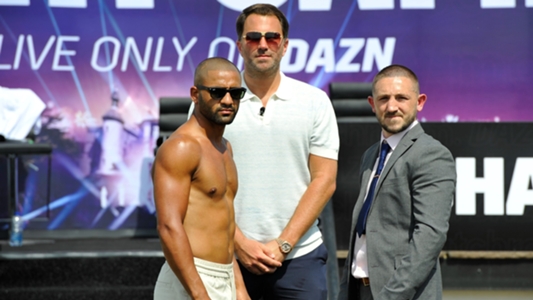 "This has all fell into place perfectly for Jazza." Tony Bellew speaks with a childlike enthusiasm when discussing Jazza Dickens' world title chance against Kid Galahad at Fight Camp 2, live exclusively on DAZN, on August 7th.
Since becoming the manager of Dickens in 2019, Bellew, along with MTK, Derry Mathews, and George Vaughan, have guided the Liverpool fighter to the lofty platform that was predicted when Dickens first started punching for pay a decade ago.
Since his debut, Dickens has endured a number of tough nights in the ring, including a loss to his summer opponent back in 2013, but those setbacks appear to have made Dickens a better fighter. His Golden Contract success has placed him at the business end of the featherweight division and Bellew believes the timing is right to take on Galahad.
Editors' Picks
"This is a brilliant opportunity for Jazza and I think we're going to see the best version of him," said Bellew when speaking to DAZN. "He's had his losses and nights when things didn't go well for him but he's took as much as possible from each defeat and he's made it work for him to become a better fighter.
"This is a lad who's made necessary changes to his team. He's took himself away to America to get advice there. He's done what he feels is absolutely right to become a world champion and he's so close to realising that dream.
"He entered the Golden Contract tournament and he was rolling a dice. His career could've been back at square one if he would've lost in that competition but he showed just how much he's improved with some great wins. Look what those performances have done for him. He's always wanted to be a world champion and now he has the chance to become one."
With Dickens and Galahad renewing hostilities nearly eight years after their first meeting, a bout the Sheffield man won via tenth round stoppage, what is giving Bellew confidence that his fighter levels the series and reaches the sport's pinnacle?
"This is a hard fight but it's a fight Jazza can win because of the improvements he's made and also because he learns from past experiences. A defeat is not a bad thing if you take as much as possible from it and make sure the same things don't happen again.
"I had to do that as a fighter on more than one occasion and I know someone as determined and as dedicated as Jazza is capable of doing it as well. He's looked superb in his recent fights and I think he's at his very best now. Through experience and the age he's at, I think we're looking at a great version of Jazza Dickens."
With the Galahad fight dominating Dickens' steely focus from now until fight night, Bellew is aware that a Jazza victory will propel him onto the radar of the other leading fighters in the talent-laden featherweight scene. Does the former WBC cruiserweight champion have a preferred path for his fighter to take if victorious against Galahad?
"There'll be big decisions to make on Jazza's career but they'll be the type of decisions that will mean his career, and more importantly his life, will be in a good place. You have fighters like Leo Santa Cruz and Emanuel Navarrete at the top of the division and there's also Josh Warrington to come back into the mix.
"For now, the priority has to be, and is, Galahad. This is a fight Jazza has wanted for many years because of the history between the pair and now it's happening with a world title on the line. He's done everything he possibly could to get into this position and now he has to prove he's the best."
Jazza Dickens vs. Kid Galahad 2 headlines the scond week of Fight Camp 2. To watch this fight, along with many others at Fight Camp 2, subscribe to DAZN here.
source
https://www.google.com/url?rct=j&sa=t&url=https://www.dazn.com/en-GB/news/boxing/tony-bellew-believes-timing-is-right-for-jazza-dickens-to-beat-kid-galahad/z3mtrfwv6fj8190bry8ychk1g&ct=ga&cd=CAIyGjM5YWU2NzNiY2UyZGJkMGI6Y29tOmVuOlVT&usg=AFQjCNEWl47Ud4AKsOukMQq0g_oLMBuDoA