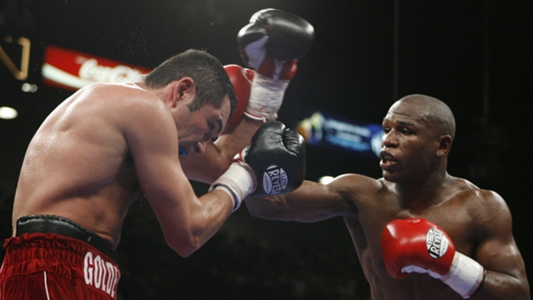 Sergio Mora does not want to see Oscar De La Hoya and Floyd Mayweather sign up for a rematch 14 years after the pair first met.
Mayweather won the original bout, and was last in action against Logan Paul in an exhibition fight. De La Hoya is plotting his own comeback and has hinted that he wants his third fight after his return to be against his former rival.
Mora, though, is unconvinced there is a good reason to go through the ordeal again.
Editors' Picks
"I have to understand or accept that there's a market for these old champions, these legends, to come back, but I don't want them coming back facing guys they already lost against," he said on JABS as part of the DAZN Boxing Show .
"It's not interesting. If these old legends want to make a comeback, to fight a UFC fighter, an MMA fighter, a kickboxer, a wrestler, I'm ok with that."
The former world champion believes that the pair's bifurcated lifestyles means that any other fight would simply be one-sided in Mayweather's favour.
"For Oscar De La Hoya to fight in a rematch, their first match Floyd Mayweather won to become a superstar was 14 years ago," he said.
"That was in 2007. They're in different pieces in their life, they live different lifestyles.
"We know Mayweather lives like a Greek god. He doesn't drink, he doesn't imbibe, he doesn't socialise, doesn't' do all the things that are bad for your health.
"Oscar De La Hoya on the other hand, we know he likes to have a good time. Look, I'm not gonna say nothing about it, but at almost 50 years old, no, you don't want to go in with a guy who already beat you, and lives a Roman lifestyle, and doesn't do all that, and three, he's still that damn good, he looks a good as he was 10-15 years ago."
source
https://www.google.com/url?rct=j&sa=t&url=https://www.dazn.com/en-US/news/boxing/oscar-de-la-hoya-shouldnt-take-floyd-mayweather-rematch-says-sergio-mora/1n4gwn2jviiju1wjrqqh73bclp&ct=ga&cd=CAIyGjM5YWU2NzNiY2UyZGJkMGI6Y29tOmVuOlVT&usg=AFQjCNEOYH3bCcfuWZSc8waSTRGD40sRBA