One of the most exciting boxing fight announcements this year was made recently when Manny Pacquiao confirmed he would challenge WBC and IBF welterweight champion Errol Spence Jr. in a clash pitting one of today's undefeated and all-conquering elite fighters against one of the greatest welterweights of all time and the only eight-weight world champion in history.
The fight takes place on August 21 in Las Vegas, and a Saturday fight night in 'Sin City' is par for the course for a top-line boxing attraction. However that news was followed by a more curious development.
Professional wrestling juggernaut World Wrestling Entertainment confirmed their annual summer spectacular event 'Summerslam', initially pegged for Sunday Aug. 22 as per their long-running tradition of staging major events on Sunday evenings, would in fact take place on the 21st as well.
Not only that, but Summerslam had long been reported to be headed to Las Vegas. Many initially assumed the Saturday date would mean WWE were looking for another venue in another city, but it will in fact take place a stone's throw away from Pacquiao vs. Spence on the same evening.
So, how exactly are we expecting this to work?
How close are Pacquiao vs. Spence and Summerslam's venues?
The boxing superfight has been announced for the MGM Grand Garden Arena, home of many immortal boxing encounters over the years, including his loss to Floyd Mayweather, three of his four wars with Juan Manuel Marquez, his trilogy against Timothy Bradley and his two most recent outings vs. Adrien Broner and Keith Thurman.
Meanwhile, Summerslam 2021 will emanate from the newly-built Allegiant Stadium, home of the NFL's recently-relocated Las Vegas Raiders.
The Las Vegas strip is of course pretty huge, and Google Maps has the 1.4 mile distance between the two arenas as a 30-minute walk or a six minute drive/taxi ride, which of course depends on traffic. On a Saturday night on one of the biggest tourist destinations in the world, six minutes may be a tad optimistic.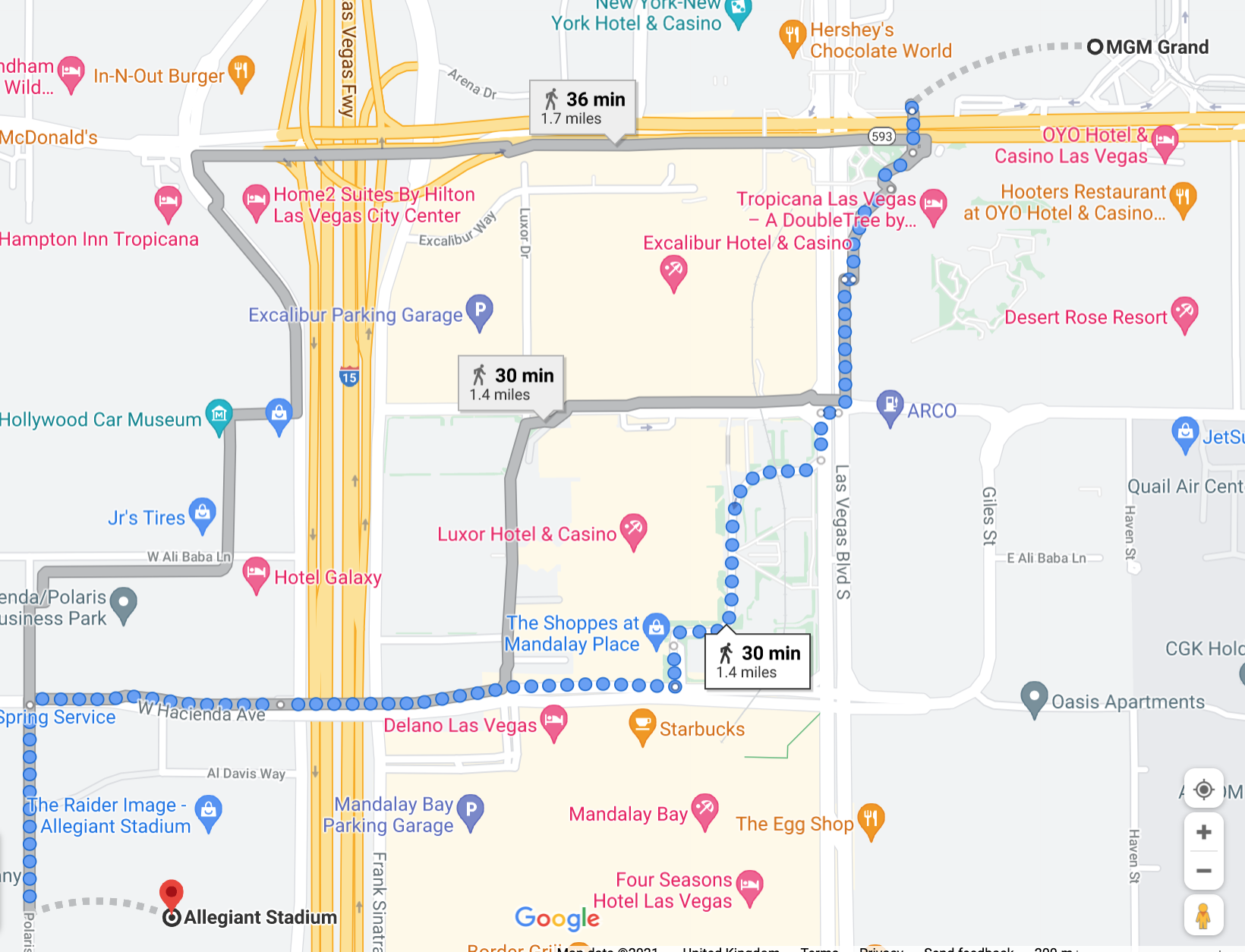 Will the two events happen at the same time?
Both are slated for the evening, so it's almost guaranteed there will be at least a part of Summerslam that is airing live at the same time as part of the Pacquiao vs. Spence card. The key question, however, is will the boxing main event — the fight everyone wants to see — run unopposed.
Mike Johnson of PW Insider reported recently: "We are told WWE's plan is to conclude Summerslam with enough time for fans to be able to attend the Pacquiao fight in the same city if they choose or to be able to watch Pacquiao's fight on PPV after WWE's broadcast concludes."
Major WWE events often begin at 7pm or 8pm ET, which is 4pm or 5pm PT in Vegas and midnight or 1am in the UK. Wrestlemania and Summerslam have in the past run as long as six or seven hours (!), but in the COVID-19 era there has been a more frequent return to the three- or four-hour runtimes of old.
Main event ringwalks in Vegas usually land around 11pm to midnight ET/8pm to 9pm PT/4am to 5am UK, so if WWE kicked off Summerslam at 4pm local time in Vegas and kept things to a three-hour show, attendees could indeed make an 8pm ringwalk for Pacquiao vs. Spence live and in person.
If Johnson's report is to be taken at face value, then we can rest assured that conversations are taking place between both parties to ensure a smooth transition. A shuttle service for those who have purchased tickets to both could even be set up, for instance.
What about watching Pacquiao-Spence and Summerslam on TV?
Now this should be much easier, when you remove the Las Vegas Strip logistics.
History has shown that there is a large percentage of crossover fans who will consider watching both live boxing and big wrestling shows, depending on what's on offer. With Pacquiao-Spence and Summerslam being up there at the top of their respective professions' biggest offerings of 2021, there will be a big number of spectators planning a huge double-header viewing party — that is of course, so long as the wrestling does not clash with the boxing headliner.
Paul Benson launched Hooked On Wrestling, a live events company that specialises in screening big WWE events such as Wrestlemania, Summerslam and the Royal Rumble, in 2013. He has seen first-hand the sort of numbers and atmosphere a wrestling party can attract, and after a frantic rush to reschedule his venue bookings for Aug. 22 to Aug. 21, is wary of the complications the Pacquiao-Spence fight could cause.
"We haven't staged our parties since January of 2020 for the Rumble, thanks to the pandemic," he told DAZN. "Of course everyone is desperate to get back to events and let their hair down after a rough 18 months, so the Summerslam parties should be incredible.
"I honestly cannot see the Pacquiao undercard being stacked too much. Some boxing promoters go for a supercard, but a lot will just focus on the main event and put rookies underneath because the building will stay half empty or worse until the big fight, anyway.
"I'm quietly optimistic it will be Summerslam from probably midnight in the UK, it'll probably run four hours because it's set to be a stacked show with rumours of John Cena returning to face Roman Reigns and more, then Pacquiao and Spence walk out for their fight at around 5am in the UK. That's midnight in New York, but UFC have had their main events past midnight ET several times."
That expected hour's gap for Vegas ticket-buyers to pull a double header will give viewers around the world plenty of breathing space, and if Pacquiao-Spence ends up with a decent chief support bout, viewers will hopefully be able to watch all of Summerslam, the co-main and Pacquiao vs. Spence in one tremendous summer's evening.
Pacquiao vs. Spence: How many world titles are at stake?
We know that Spence will be defending his WBC and IBF belts in the encounter. So, the fight will be for two world titles at the very least. However, Pacquiao's championship situation is a little more complex.
In his last fight, 'Pac-Man' dethroned previously-unbeaten Thurman for the WBA welterweight strap. However, that fight took place pre-pandemic, way back in July 2019. The WBA then made the decision to declare Pacquiao as "champion in recess" and promote Yordenis Ugas to being recognised as their 'main' welterweight champ, of all the various versions per division this particular sanctioning body dishes out.
Upon hearing of the huge showdown set for Manny's return, the WBA was then reported as considering reversing that decision, presumably so that they can get more involved in the August superfight that just so happens to promise to be very lucrative.
For now, two world titles are a lock. But if the WBA decide to re-recognise Pacquiao heading into the fight, the winner will control 3/4 of the division with only WBO champion Terence Crawford able to dispute their rule. And Crawford-Spence or Crawford-Pacquiao for undisputed glory is exactly what fans hope to see the 147lbs deliver in 2022.
source
https://www.google.com/url?rct=j&sa=t&url=https://www.dazn.com/en-ZA/news/boxing/manny-pacquiao-vs-errol-spence-jr-what-titles-are-on-the-line-will-it-clash-with-wwe-summerslam/wod309koed781a2k8y1q33p83&ct=ga&cd=CAIyGjM5YWU2NzNiY2UyZGJkMGI6Y29tOmVuOlVT&usg=AFQjCNEUTWey_Jyh4mdOi6Jbw1CXK4dSTA