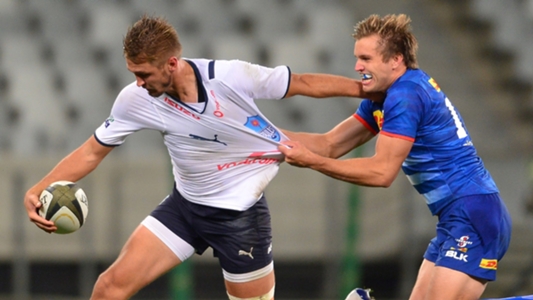 The Guiness Pro14 Rainbow Cup was created in the shadow of the 2020-21 Pro14 season, which — like most aspects of life around the globe — was disrupted by the COVID-19 pandemic.
Originally slated to be a cross-hemisphere tournament involving 12 European clubs and four South African sides, a concurrent pair of tournaments emerged in its stead. The European teams would play amongst each other, while the South African sides would take part in their own, smaller tourney at the same time.
While there would be no crossover during the tournaments proper, the respective winners will face off in a final on June 19 in Italy.
Here's everything you need to know about the 2021 Pro14 Rainbow Cup:
Which teams are competing in the 2021 Pro14 Rainbow Cup?
As the name suggests, there are 14 teams taking part in the Rainbow Cup. The four teams in the Rainbow Cup SA are all from South Africa.
Pro14 Rainbow Cup
Benetton (ITA)
Cardiff Blues (WAL)
Connacht (IRL)
Dragons (WAL)
Edinburgh (SCO)
Glasgow Warriors (SCO)
Leinster (IRL)
Munster (IRL)
Ospreys (Wales)
Scarlets (WAL)
Ulster (IRL)
Zebre (ITA)
Pro14 Rainbow Cup SA
Bulls
Lions
Sharks
Stormers
How to watch the 2021 Pro14 Rainbow Cup in Canada
You can stream select matches from the 2021 Pro14 Rainbow Cup live on DAZN.
DAZN, the first global pure sport live and on-demand streaming service, has the streaming rights for select Rainbow Cup matches in Canada for the 2021 season.
DAZN is available on web browsers at DAZN.com and also has apps available for many TV and streaming devices, including:
iPhone, iPad
Android phones and tablets
Amazon Fire Tablet
Amazon Fire TV and Fire TV Stick
Apple TV
Android TV
Google Chromecast
LG, Sony and Samsung smart TVs
Playstation 4 and Pro, Playstation 5
Xbox One, One S and One X, Xbox Series X | S
A subscription to DAZN is $20 CAD a month or $150 CAD a year.
Can I watch Pro14 Rainbow Cup games in Canada for free?
In Canada, DAZN offers new customers a 30-day free trial period. You can learn how to sign up for a free trial here.
The free-trial period includes access to all of DAZN's live and on-demand programming, including Six Nations, Pro14, the English Premier League, UEFA Champions League, Serie A, MLS, the NFL, and more.
2021 Pro14 Rainbow Cup schedule, streams
Home team listed first.
Pro14 Rainbow Cup
ROUND 1
| | | |
| --- | --- | --- |
| Date | Time (ET) | Match |
| April 23 | 3:15 p.m. | Ulster vs. Connacht |
| April 23 | 3:15 p.m. | Edinburgh vs. Zebre |
| April 24 | 9:00 a.m. | Benetton vs. Glasgow Warriors |
| April 24 | 12:15 p.m. | Ospreys vs. Cardiff Blues |
| April 24 | 2:35 p.m | Leinster vs. Munster |
| April 25 | 8:00 a.m. | Dragons vs. Scarlets |
ROUND 2
| | | |
| --- | --- | --- |
| Date | Time (ET) | Match |
| May 7 | 2:00 p.m | Zebre vs. Benetton |
| May 7 | 3:15 p.m. | Munster vs. Ulster |
| May 7 | 3:15 p.m. | Glasgow Warriors vs. Edinburgh |
| May 8 | 2:35 p.m. | Connacht vs. Leinster |
| May 8 | 2:35 p.m. | Scarlets vs. Ospreys |
| May 9 | 8:00 a.m. | Cardiff Blues vs. Dragons |
ROUND 3
| | | |
| --- | --- | --- |
| Date | Time (ET) | Match |
| May 14 | 1:00 p.m. | Munster vs. Connacht |
| May 14 | 3:15 p.m. | Leinster vs. Ulster |
| May 15 | 10:00 a.m. | Scarlets vs. Cardiff Blues |
| May 15 | 1:15 p.m. | Benetton vs. Zebre |
| May 15 | 2:35 p.m. | Edinburgh v. Glasgow Warriors |
| May 16 | 8:00 a.m. | Dragons vs. Ospreys |
ROUND 4
| | | |
| --- | --- | --- |
| Date | Time (ET) | Match |
| May 28 | 2:35 p.m. | Munster vs. Cardiff Blues |
| May 29 | 10:00 a.m. | Ulster vs. Scarlets |
| May 29 | 1:15 p.m. | Benetton vs. Connacht |
| May 29 | 2:35 p.m. | Dragons vs. Glasgow Warriors |
ROUND 5
| | | | |
| --- | --- | --- | --- |
| Date | Time (ET) | Match | Stream |
| June 4 | 1:00 p.m. | Connacht vs. Ospreys | DAZN |
| June 4 | 3:15 p.m. | Glasgow Warriors vs. Leinster | DAZN |
| June 5 | 12:15 p.m. | Edinburgh vs. Ulster | — |
| June 5 | 2:35 p.m. | Cardiff Blues vs. Zebre | — |
ROUND 6
| | | | |
| --- | --- | --- | --- |
| Date | Time (ET) | Match | Stream |
| June 11 | 2:00 p.m. | Zebre vs. Munster | TBD |
| June 11 | 3:15 p.m. | Leinster vs. Dragons | TBD |
| June 12 | 2:35 p.m. | Ospreys vs. Benetton | TBD |
| June 13 | 8:00 a.m. | Scarlets vs. Edinburgh | TBD |
Pro14 Rainbow Cup SA
ROUND 1
| | | |
| --- | --- | --- |
| Date | Time (ET) | Match |
| May 1 | 8:00 a.m. | Stormers vs. Sharks |
| May 1 | 1:00 p.m. | Bulls vs. Lions |
ROUND 2
| | | |
| --- | --- | --- |
| Date | Time (ET) | Match |
| May 8 | 10:00 a.m. | Sharks vs. Lions |
| May 8 | 12:15 p.m. | Stormers vs. Bulls |
ROUND 3
| | | |
| --- | --- | --- |
| Date | Time (ET) | Match |
| May 15 | 7:30 a.m. | Lions vs. Stormers |
| May 15 | 12:15 p.m. | Bulls vs. Sharks |
ROUND 4
| | | |
| --- | --- | --- |
| Date | Time (ET) | Match |
| May 22 | 7:00 a.m. | Sharks vs. Stormers |
| May 22 | 9:30 a.m. | Lions vs. Bulls |
ROUND 5
| | | | |
| --- | --- | --- | --- |
| Date | Time (ET) | Match | Stream |
| June 4 | 1:00 p.m. | Bulls vs. Stormers | DAZN |
| June 5 | 10:00 a.m. | Lions vs. Sharks | — |
ROUND 6
| | | | |
| --- | --- | --- | --- |
| Date | Time (ET) | Match | Stream |
| June 12 | 10:00 a.m. | Stormers vs. Lions | TBD |
| June 12 | 12:15 p.m. | Sharks vs. Bulls | TBD |
source
https://www.google.com/url?rct=j&sa=t&url=https://www.dazn.com/en-CA/news/rugby-union/pro14-rainbow-cup-2021-schedule-teams-live-streams-and-how-to-watch-in-canada/3n2wx9h3tnvp1gm3mgtu1wwj9&ct=ga&cd=CAIyGjM5YWU2NzNiY2UyZGJkMGI6Y29tOmVuOlVT&usg=AFQjCNEdMcpU_htv56MsNOxZkW4mkYLKBw