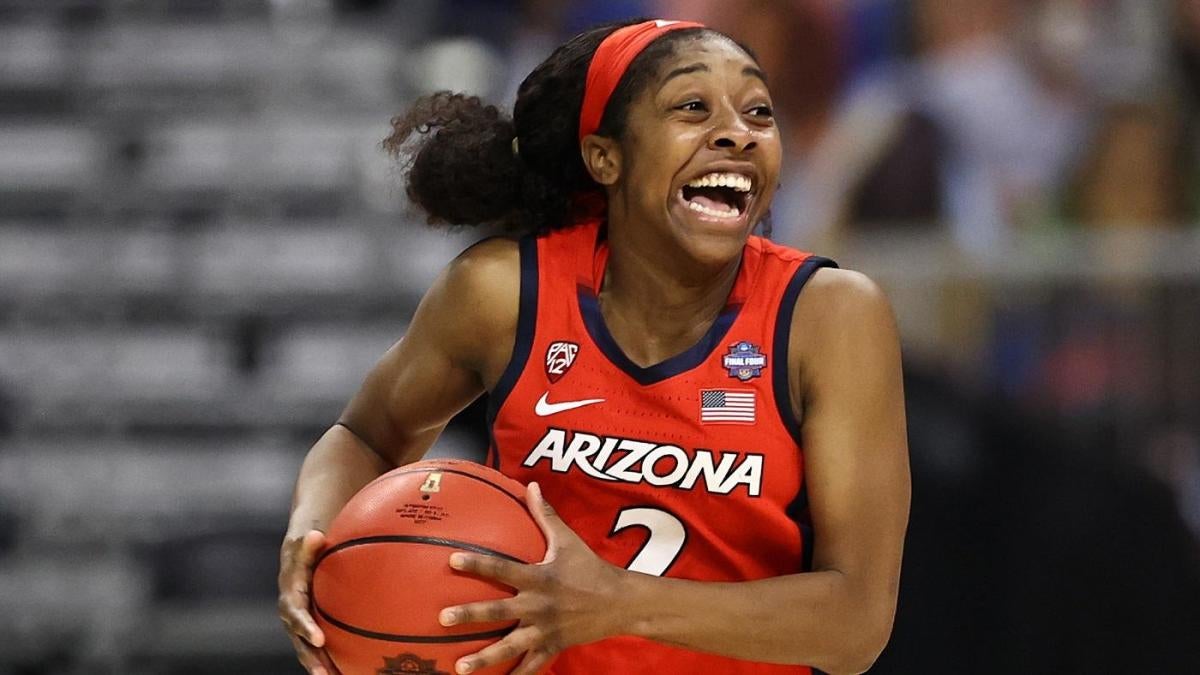 The Arizona Wildcats are headed to the national championship after a stunning upset win over UConn Huskies in the NCAA Women's Final Four. The Wildcats came into the national semifinal as 14-point underdogs and advanced to their first ever national championship game. They will face Pac-12 rival Stanford, who defeated South Carolina in the first Final Four matchup.
Arizona led wire-to-wire after racing out to a 16-10 lead after the first quarter, and held a 32-22 halftime lead. The Wildcats defense kept one of the highest scoring offenses in the nation under wraps. UConn was averaging more than 82 points per game coming into the matchup, and was averaging 86.5 points per game in the NCAA Tournament.
UConn faced their largest deficit of the season on Friday night, down 14 points in the second half and never held a lead in the game. This is also UConn's first double-digit loss in the NCAA Tournament since 2007.
Arizona's Aari McDonald helped lead her team to victory, with 26 points and seven rebounds. UConn's leading scorer was Christyn Williams, who fouled out on a controversial call late in the game. She had 20 points and five rebounds.
After the game, UConn head coach Geno Auriemma had a lot to say about the loss. He commented on the team's mentality, saying, "We have a very immature group. Not just young... When we're high and we're on top of the world, we think everything's great. When things don't go our way, there's a pouting about us." He added, "It was incredibly difficult for us to get anything done."
UConn's star Paige Bueckers has earned a lot of praise during this tournament, including becoming the first freshman to win AP women's basketball's player of the year, but Auriemma, who just coached his 21st Final Four -- he's 11-10 -- and experienced his fourth consecutive loss in the national semifinals, said she has a long way to go.
"As good as you all think she is, and she's really good, if we're going to be here the next couple of years with her at Connecticut, she's needs to get a lot better," he said.
Following the historic win, Arizona head coach Adia Barnes was seen using choice words and gestures to hype up her team in a post-game huddle. She explained the whole thing, saying, "I did not cuss about the NCAA, I did say a cuss word, and the cuss word was basically like, 'forget everybody,' it was a little bit more do a chosen word, but 'forget everybody who didn't believe in us.'"
While many counted the Wildcats out, Barnes said, "That is my team and I believe in them and I will run through a wall for them. and I'm just so proud, because they do whatever I ask, they believe and that's all I can ask for with the team. They play hard for me. And I give it my all."
It ended well for her squad, but she said either way she was going to be happy with how her team fought.
"[I said] at the end of the day whether we won or lost, if we play the hardest and we do everything we can control that I was going to be happy with the result and I can walk away with my head up so I'm just so proud of this team."
The Wildcats look to continue this momentum when they face No. 1 overall seed -- and Pac-12 rival -- Stanford in the national championship game on Sunday. Stanford beat Arizona both times they played during the regular season, 81-54 on January 1 in Tuscon and 62-48 on February 22 in Stanford. The two did not meet in the Pac-12 tournament after Arizona lost to UCLA in the semifinals.
This will be the first NCAA Division I basketball national championship game featuring two Pac-12 teams. The last time there was a conference matchup for the women's national title was 2017 when South Carolina beat Mississippi State in an all-SEC final.
source
https://www.google.com/url?rct=j&sa=t&url=https://www.cbssports.com/college-basketball/news/2021-ncaa-womens-tournament-final-four-live-updates-uconn-vs-arizona-score-tv-channel-live-stream/live/&ct=ga&cd=CAIyGjBjZWNkYTc1ZDc4NTFiNjM6Y29tOmVuOlVT&usg=AFQjCNGpVZA1j4Zvks-PR0jKi_jr-m0R1w