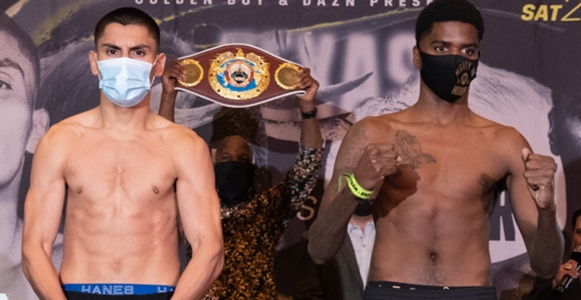 Ortiz proves he's real deal with seventh-round TKO
Instant replay shows that Ortiz landed a vicious right hook across Hooker's jaw that made "Mighty Mo" succumb.
Ortiz stops Hooker!
Another straight right hand lands for Ortiz. Hooker takes a knee! He's doubled over in pain and says he can't continue. This one is over! Ortiz remains perfect. Make that 17 wins, 17 knockouts. Does Terence Crawford still believe that the prospects of facing Ortiz is a laughing matter?
Ortiz-Hooker; Round 6
Hooker's corner imploring him to not let Ortiz bang on him to which "Mighty Mo" says he was having trouble breathing last round. Ortiz snapping Hooker's head back with a left jab. Solid combination from Hooker. The two trade punches once again. They exchange uppercuts, with Hooker's the most piercing thrown and landed. Ortiz having success stepping forward with the jab. Ortiz drops Hooker! He did it with a straight right, followed by a short flurry. "Mighty Mo" is hurt and on his backside. He beats the count, but gets blasted with an overhand right. Oh my, did Ortiz make Hooker feel every bit of his power there. (10-8 Ortiz, 58-55 Ortiz)
Ortiz-Hooker; Round 5
Ortiz' face has swelling entering the fifth. Big left hook from Hooker lands. He's showing caution, but picking his spots as to when to trade power shots with Ortiz. This is a close fight right now. Ortiz digs into Hooker's body. He brushes Hooker back with a serious right hook to the body now, too. Now, a left hand to Hooker's body lands as well. They trade fire, with Ortiz grazing Hooker's jaw with a right. Ortiz does an excellent job softening up the body in order to head hunt. (10-9 Ortiz, 48-47 Ortiz)
Ortiz-Hooker; Round 4
Hooker's corner tells him to "stay off the f—ing ropes!" Ortiz splits Hooker's guard with a straight right. Ortiz trying to assert his own jab to load up on a damaging power shot. Ortiz splits Hooker's guard, but Hooker counters with two choppy right hands. Hooker now wraps a looping right around Ortiz' high guard. "Mighty Mo" dipping into his bag of punches for another round. (10-9 Hooker, 38-38)
Ortiz-Hooker; Round 3
Both fighters reach into the body during the opening ticks. Ortiz sits on a left hook, which Hooker defends well. Hooker doing a great job pumping the jab. Left hook, then a right hook lands for Ortiz. Hooker counters, but gets caught. Now, Ortiz adds a right hook as well. Left hook from Hooker lands. Hooker evades a punch, then launches a left hook that lands to take the round. (10-9 Hooker, 29-28 Ortiz)
Ortiz-Hooker; Round 2
Hooker jabbing his way around Ortiz in the opening seconds. Ortiz digs into Hooker's body with a pair of shots in rapid succession. A left to the body follows. Then a right from Ortiz upstairs as well. Left hook from Hooker lands seconds later. Ortiz pops Hooker's head back with a straight right. Ortiz pushes Hooker down to the canvas. Ortiz is really trying to load up on his power shots. Hooker has got to be careful. Hooker is jabbing away and the volume punching is opening opportunities to mix in some hooks. Still, Ortiz is walking him down and launching power shots. It was Hooker's round, but a strong right-left hook from Ortiz swipes the frame. (10-9 Ortiz, 20-18 Ortiz)
Vergil Ortiz Jr.-Maurice Hooker; Round 1
Hooker trying to assert that long jab of his already. Ortiz backing Hooker up already with a right hand, but "Mighty Mo" showing a willingness to exchange fire with him. Lunging right grazes Hooker moments later. Ref warns Ortiz not to push down on the back of Hooker's head. Ortiz is the aggressor walking Hooker down. Hooker wants to box, but has exchanged hooks with Ortiz. Ortiz buries a couple of lefts into Hooker's body now. Ortiz splits Hooker's guard with a right. Hooker did get in a liver shot that Ortiz handled well, though. Entertaining first round. (10-9 Ortiz)
And here comes the undefeated Vergil Ortiz Jr.
The 22-year-old, and Grand Prairie, Texas native, enters tonight with a 16-0 record with 16 KOs. Can he make it 17-0 and inch his way closer to a world title shot?
The Vergil Ortiz Jr.-Maurice Hooker main event is here!
Here comes "Mighty Mo" Maurice Hooker, the former junior welterweight world champion. The Dallas, Texas native comes in as a 10-1 underdog. Let's see if he tenders big paydays to those who selected him to stop Ortiz in his tracks and hand the prospect his first pro loss.
Terence Crawford says he's not thinking about unification with Errol Spence Jr.
"I'm not even worried about Errol Spence no more. I already told everybody that that fight is history for me. I'm not thinking nor worried about Errol Spence anymore. That fight is behind me."
Terence Crawford laughs off potential fight with Vergil Ortiz
"I just laugh at it," the WBO welterweight champion tells Chris Mannix on DAZN. "Right now, I'm on bigger and better things. Who knows what the future may hold. Maybe me and Vergil may get it on ... if he wins. But that's a little premature to say."
Seniesa Estrada takes world title by unanimous decision
Judges have it 100-89, 100-89 and 99-90 all in the favor of Seniesa Estrada — the new WBA women's minimumweight champion.
The fighting pride of East Los Angeles has star qualities, as Golden Boy should continue to grant her big looks on big stages to nourish her growing star power.
Ortiz-Estrada; Round 10
Estrada continues to fight forward, pumping straight right and left hands that are landing stiffly. Estrada drives Ortiz back with a straight right hand, as she's teeing off on the champion. The ref inexplicably thinks the 10-second warning is the end of the fight, but Estrada goes back to bringing the pain. She ends the fight and will have the championship in hand within a minute or so. One-way traffic from Estrada, who delivered an impressive performance tonight.
(10-9 Estrada, 99-90 Estrada)
Ortiz-Estrada; Round 9
Estrada is now pounding away at Ortiz's body with success before going back upstairs with slicing right and left hands. She's pummeling Ortiz. The scary thing is Estrada isn't showing the ability to set up her jab. She's simply punching away and having success at it. Once she consistently sets up that jab, she'll be an even bigger problem. (10-9 Estrada, 89-81 Estrada)
Ortiz-Estrada; Round 8
If Ortiz is going to have any shot here, she's going to have to step into a flurry and be willing to eat a punch or two to land something heavier. It's a painful strategy, but Estrada isn't giving the champion windows of any other opportunities, as she lands a powerful right across the jaw during the waning seconds of the round. (10-9 Estrada, 79-72 Estrada)
Ortiz-Estrada; Round 7
Estrada is just too much for Ortiz. The speed, power and overall skills are on full display from the heady challenger. Estrada is doing what she wants, as she switch-hits her way to banking yet another round. (10-9 Estrada, 69-63 Estrada)
Ortiz-Estrada; Round 6
Ortiz is having success any time she's able to catch Estrada switching stances, as the champion punches through and lands some precise shots. The problem is, those moments aren't occurring nearly enough for Ortiz. Although Estrada catches Ortiz with some stinging shots, Ortiz does enough to take her first-round this fight. (10-9 Ortiz, 59-54 Estrada)
Ortiz-Estrada; Round 5
Estrada comes right out of her corner and smothers the champ, backing Ortiz up with quick punching. Ortiz is landing some strong-timed punches, but Estrada is the aggressor, having landed roughly double the punches halfway through here. This has been a shutout thus far. (10-9 Estrada, 50-44 Estrada)
Ortiz-Estrada; Round 4
Estrada comes out continuing to apply pressure and with power, as she tees off on Ortiz in the corner with lefts and rights. She has the champ back in the corner and is just letting her hands go fast and furiously. Estrada is throwing Ortiz off with the way she's switching stances. Ortiz counters with a left, but most of the output comes from Estrada once again. The champion's eyes are swelling up here.
(10-9 Estrada, 40-35 Estrada)
source
https://www.google.com/url?rct=j&sa=t&url=https://www.dazn.com/en-US/news/boxing/vergil-ortiz-jr-vs-maurice-hooker-live-updates-results-and-highlights-from-the-main-card/1sojngby5quz11t1qi1plh8wbc&ct=ga&cd=CAIyGjM5YWU2NzNiY2UyZGJkMGI6Y29tOmVuOlVT&usg=AFQjCNFdMYTEQwzRLczNEHmLGex8FY1OFw