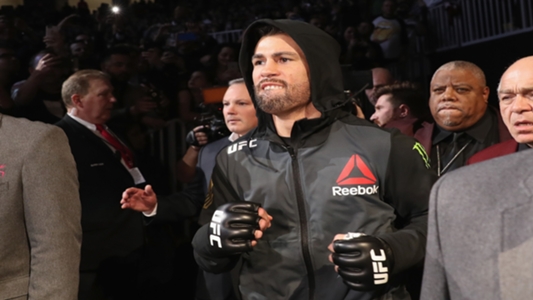 People like or dislike fighters based on their performance. Nothing more, nothing less. That's just the way it is.
Fans view Jon Jones, Georges St-Pierre, Anderson Silva, and Fedor Emelianenko as the greatest mixed martial artists of all-time. They feel that way because of the wins they garnered and the championship they won.
The lower weight classes aren't viewed the same way as the upper weight divisions. More people want to see knockouts, whereas the lower divisions, which are featherweight, bantamweight, flyweight, and women's strawweight, quite often have to use their speed, skill, and fight IQ to emerge victorious. One of the best to do it is Dominick Cruz, who returns on Saturday at UFC 259 against Casey Kenney.
Cruz (22-3) has had one of the most outstanding careers in MMA history. He's a former WEC and two-time UFC bantamweight champion. Cruz defended the WEC title twice before the company merged with the UFC at the end of 2010. The native of California defended the belt twice before a series of knee injuries sidelined him for nearly three years. Cruz went on to regain the title from TJ Dillashaw in January 2016. After winning the rubber match against Urijah Faber at UFC 199 to successfully retain the belt, Cruz lost the strap to Cody Garbrandt 2017. Injuries once again set Cruz back and this time put him on the sidelines for almost three-and-half years. But this go-around didn't give Cruz the fairy tale ending like the last time around, losing to then-champion Henry Cejudo.
Despite the long layoffs and the series of unfortunate injuries, it's hard to deny Cruz's standing as the best to do ever compete at 135 pounds. It's an assessment that Cruz agrees with.
"I do. I really do," Cruz explained to DAZN News. "I look at the things that I've done, and you can think of maybe six, maybe seven fighters tops who have defended the title three times in one year. I know I've been labeled as somebody who's been laid off a lot. But I'm one of those seven fighters, seven champions who's defended the title three times in one year. That's a very heavy pace. That's a very strict regiment that I kept. I'm very proud of that. Not to mention, I did clear out my division. There was a point where I beat every contender in the top 10. That's what it takes to me to be one of the greatest.
"In the past, I was on the pound-for-pound list as well. I had beaten the number one pound-for-pound fighter when I was ranked number two in the pound-for-pound list. I've done a lot of things statistically. That makes me that I believe. Right now, I'm still competing 16 years later. So that for sure, that's what I need to know for me to be the greatest now. But mostly, it's the defenses that I had, the level of competition that I faced, and how long I was able to retain that title even with an injury. People want to say, 'Yeah, you had the title for a long time, but he's injured a lot. But when I came back from the injury, I was still facing the number one fighter on the planet after that layoff. Not being in there, not competing, while these fighters were that still makes me the best at that moment, regardless of the layout."
Cruz-Kenney is the featured UFC 259 prelim. More often than not, the prelims are seen by more people than the actual pay-per-view. The last time Cruz appeared on the prelims' prime spot was his 61 second knockout of Takeya Mizugaki at UFC 178. It's a position Cruz has no problem taking and feels the UFC has an excellent reason to put him in this slot.
"The UFC knows what they're doing," Cruz said. "I didn't pick my position on the card. They did. I think that was a strategy on their part. They've got a former world titleholder that's fighting on the top of the prelims. You got to think of me as a lead batter for the baseball team. I'm the lead batter. That's how you got to look at it. They're putting Casey Kenney against me because he shows up, and he fights. He doesn't lay down. It's going to be a fun fight to watch."
For Cruz, the fight with Kenney isn't about the path to another championship or to cement his legacy. He knows where he stands at this stage of the game. Those things are etched in stone. To him, it's just about getting back into the Octagon, snapping a two-fight losing streak, and scoring his first win in over four years.
"It takes a huge weight off my shoulders against my own self," Cruz admits. "I'm doing this for me. I'm testing myself right now. I've won these championships. I've competed at the highest level against the best. What I haven't done is compete at a high level after a three-and-half-year layoff and have two losses. That's a new chapter for me. That's a new test for me.
"Some people might look at it as this isn't a championship-level fight. I look at it just as difficult because of the circumstances I've faced leading into this. I've suffered a broken ulnar and my blown-out shoulder. I have to start brand new from scratch after those two rehabs. People don't know what those rehabs have been like for me for those injuries. They're very difficult and very strenuous. A lot of hours have gone into that. For me, it's about showing myself who I am all over again and doing my job."
source
https://www.google.com/url?rct=j&sa=t&url=https://www.dazn.com/en-US/news/mma/ufc-259-dominick-cruz-feels-hes-the-greatest-bantamweight-of-all-time/18ev7z15qi3pqz74opoze5uav&ct=ga&cd=CAIyGjM5YWU2NzNiY2UyZGJkMGI6Y29tOmVuOlVT&usg=AFQjCNFMsJBL2FJd3NhkqF9pWzbZg6oydg