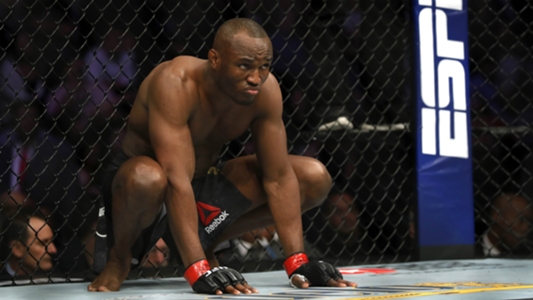 When you look at Kamaru Usman's athletic resume, it's a stellar one.
He is a two-time NCAA Division II national finalist in wrestling, and he won the national title at 174 pounds in 2010 by going 44-1. Usman made the transition to mixed martial arts in 2012 and has gone 17-1 (eight wins via stoppage), winning 16 consecutive fights — with the last 12 coming inside the famed Octagon. The 33-year-old puts his winning streak, undefeated record in the UFC, and welterweight title on the line against No. 2-ranked Gilbert Burns in the main event of Saturday's UFC 258.
But who is the one that beat what many MMA pundits feel right now is the best welterweight in the world?
Usman faced off against Jose Caceres in his second professional fight at CFA 11 in May 2013. All Usman felt like all he needed to do to win was take Caceres down, and he'd finish him from there. Things were going to plan until Caceres snatched a rear-naked choke and secured the submission victory. Usman learned a valuable lesson that evening that has allowed him to become one of the most dominant fighters in the sport.
"When I came into the sport, I didn't really know that much about it," Usman admitted to DAZN News. "I just knew I had a specific skill set to where I could dominate guys. I was using that skill set each and every time. I felt that I was getting away with it. I was only honed in on the sport for a while, maybe six months at that point. I didn't care who it was inside that practice room; whether you were a 125-pounder or whether you were a heavyweight, I was going to take you down. I was going to hold you down if I wanted to. That was the attitude that I had at that point. I wasn't necessarily fully open to learning every aspect of the game. I went into that fight (thinking), 'Well, I'm so dominant with this skill set, I'm going to use that.'
"I just went in, and it was like clockwork. I did a one-two, then I took the kid down, full mount. Then he shows me different aspects of the game that I've been neglecting and not paying homage and respect to. He taught me that important lesson that you have to pay homage and respect to this game as part of the game. After that, I made a decision, and I said that I want to go into this, and I want to be the best at this, so I need to learn everything there is to know about this sport in order to do that. And the rest is history."
What if Usman took care of Caceres on that fateful May night? Would he be on top of the mountain in the welterweight division?
"I would like to say at the same place because my goal was always this," Usman said. "That's what I do. I didn't try to sell myself short. I've done that before. I know the feeling of disappointment because I knew that I was capable of so much more. So I never tried to do that anymore. So when I say man, this was always the goal. I think had that not happened, maybe I continue to be irresponsible when it comes to learning every aspect of the game and to where the transition or the process of getting here is a lot longer as opposed to really focus on learning those things and cutting it short."
No fighter wants to lose. They give their blood, sweat and tears every single time they step into the cage. Why do they do it? To become the best in the world and secure a title shot with the chance to capture a world championship. For Usman, it is the fear of defeat that drives him and made him the competitor he is today.
"I would be lying if I said I didn't," Usman said. "I would be lying for sure. Anyone would be lying if they said the same thing because this is different than anything else. You don't play this. This is real. I would be lying if I said I didn't think about that at all. I think that's part of what makes me so strong. What makes anyone that steps inside that Octagon so great is because you have those thoughts. Everybody has those thoughts. Being able to overcome them, put them in a box going away, and go in there and still take care of business. I think that is the definition of courage."
On the surface, UFC 258 shouldn't be a personal grudge match for Usman like his two previous opponents, Colby Covington and Jorge Masvidal. In Burns, he is facing a good friend. They share the same manager and were sparring partners. They trained over 200 rounds together. Usman even traveled to Brazil to be in Burns' corner for one of his previous bouts.
But when the UFC initially matched them for UFC 251, Usman decided to leave Sanford MMA in Florida and head to the Rocky Mountains in Colorado under the guidance of Trevor Wittman.
Usman knows the narrative coming into UFC 258. While he doesn't hold the same disdain for Burns like he did for Covington and Masvidal, to the "Nigerian Nightmare" this is as personal as it gets.
"Maybe to everybody else it's not," Usman said. "But I'm sure him and I feel that don't feel that way. Yeah, we are former training partners, and now we have to compete against one another. But that doesn't mean it's not personal. Like he said, it's personal. He sees something that I have, and he wants it. What could be more personal than that? A man in your village is looking at what you have, and how you conducted it because you run the village'? And he said, 'No, I want to take that from him.' What could be more personal than that, because knowing good and well that is how you provide for your daughter, your father, your mother, your grandparents, whoever it is. You say that? No, I wouldn't change that. What could be more personal than that?"
source
https://www.google.com/url?rct=j&sa=t&url=https://www.dazn.com/en-LA/news/mma/ufc-258-kamaru-usman-on-the-important-lesson-he-learned-from-his-one-career-loss/co8jvmuacquu1ltj64nyfwvdx&ct=ga&cd=CAIyGjM5YWU2NzNiY2UyZGJkMGI6Y29tOmVuOlVT&usg=AFQjCNGQJHHQSmHIojqwAdATsOi8xaW7eg