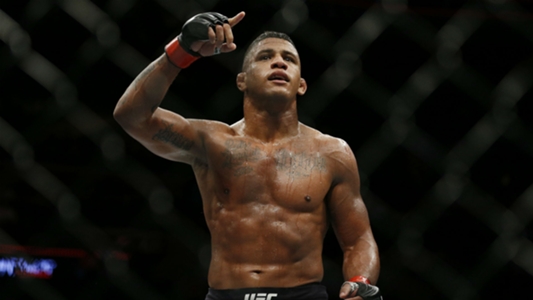 Title shots are hard to come by in the UFC. They aren't handed out like candy on Halloween.
So when Gilbert Burns found out right before he was set to board a plane to Abu Dhabi to head to "Fight Island" and face the welterweight champion, Kamaru Usman, at UFC 251 that he contracted COVID-19, he was devastated. Once he got healthy, the UFC promised Burns he'd get a crack at the Usman-Jorge Masvidal winner. After Usman took care of Masvidal, the fight was booked for UFC 256. However, Usman bowed out due to wanting to heal previous injuries.
After two championship shots falling out, Burns questioned whether he'd ever get a crack at the gold. Burns saw the landscape of the welterweight division and feared the opportunity he worked so far hard for had slipped away. But things worked out in Burns' favor, and he gets the chance to dethrone Usman (17-1) in the main event of Saturday's UFC 258.
"I would like to say I wasn't afraid, but I was," Burns admitted to DAZN News. "Khazmat Chimaev comes out with all this hype. The hype was crazy on this guy. Then he's supposed to fight Leon Edwards. Then I was like, 'Oh, okay, my fight needs to get booked ASAP because those guys are fighting'.
"As soon as that fight got canceled, and then got canceled again, I got more relaxed. For sure, in July, I didn't know what was going on. I was hoping for Kamaru to beat Masvidal. If Masvidal had won, I don't think I would have been next. I think Masvidal would have picked another guy, and I don't know how crazy the division will be going. I was pretty sure Chimaev was going to fight Edwards, but now that's a fight that's happening in March. There was Colby Covington against Masvidal. I was afraid of that fight getting booked too. Once that didn't happen, I felt more relaxed I'd fight Kamaru."
Even though he'd been booked once again with Usman, Burns still wasn't convinced the fight would happen. He hadn't received a contract, and doubt once again crept into his mind. Only when the deal popped into his email did Burns let the moment sink that he would now challenge Usman at UFC 258.
"It hasn't because we would get a couple of dates, but nothing got done, and the fight was getting pushed back," Burns stated. "Finally, we got a date of February 13. But the contract never came, and it took me awhile to get that I'm fighting. It took me a lot to have that. But as soon as my wife opened up my email, she said, 'Hey, the contract is in the email.' I was like, 'Oh, cool, now we're fighting.' I was awaiting camp. I was waiting, getting ready. But all things are going crazy right now with COVID, so I was getting ready, but I wasn't 100 percent sure that I was fighting. But as soon as I saw the contract in my email, l was fine. That was when I like, 'I earned that opportunity, so now it's time to go'. I'm getting pushed hard in training camp. Here I am now a couple of days away from the fight."
Now that UFC 258 is a few short days away, Burns feels the championship is within his grasp. He believes that while there was uncertainty about whether he'd ever compete for the belt, the hard work is going to pay off in spades when Bruce Buffer declares the winner of the main event.
"I become the welterweight champion by finish," Burns boldly said. "I do believe I possess the danger that not a lot of guys possess in the whole UFC. I have one of the best, if not the best, ji-jitsu in the whole UFC. I do believe I can finish Kamaru Usman with my ji-jitsu. I do believe I can knock him out as well. I'm going to be looking forward to that, and I'm going to be the one chasing that. I'm not going to be the one that Kamaru is going to be chasing. I do believe I'll be the one that will finish Kamaru."
source
https://www.google.com/url?rct=j&sa=t&url=https://www.dazn.com/en-SG/news/mma/ufc-258-gilbert-burns-feared-after-two-chances-fell-through-that-hed-never-get-title-shot/1vg2ki7owrvuq1uc3aypujxkns&ct=ga&cd=CAIyGjM5YWU2NzNiY2UyZGJkMGI6Y29tOmVuOlVT&usg=AFQjCNGQ9pBHTY_qeXHJ-OjpM_hCfSUSXA