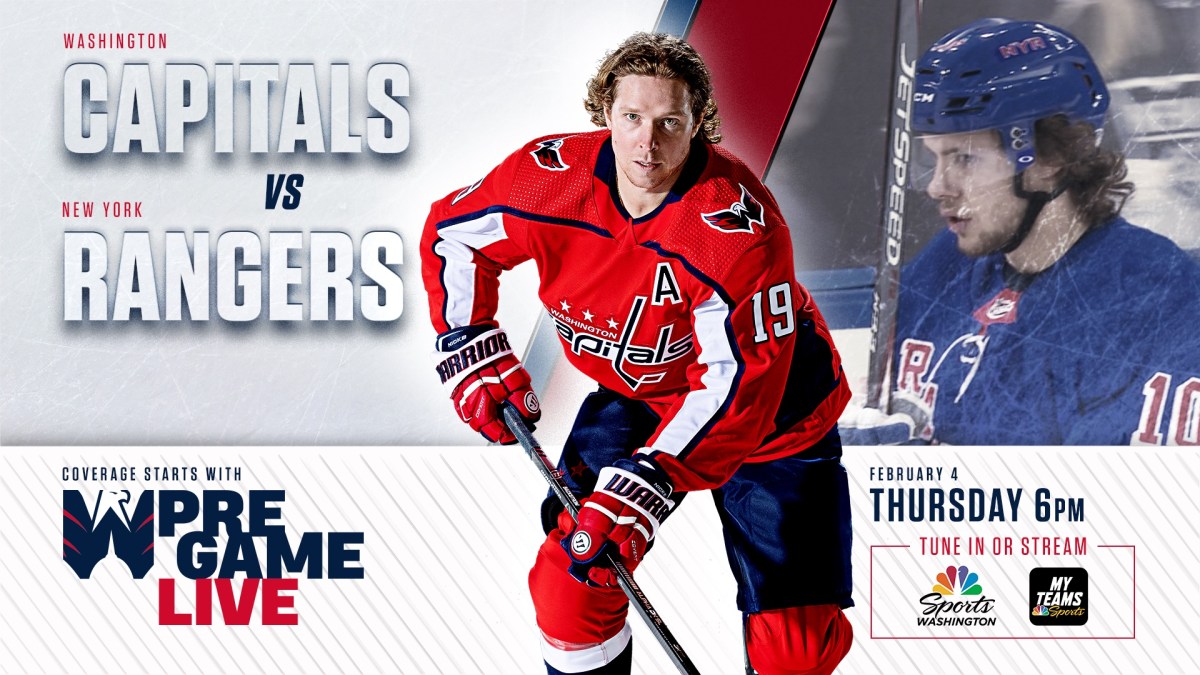 How to watch Caps vs. Rangers originally appeared on NBC Sports Washington
The Washington Capitals' luck finally ran out as they lost their first game in regulation against the Bruins on Monday night. After letting a three-goal lead slip, Boston came back to win, 5-3.
Before that, though, the Caps were riding high as they scored the fastest back-to-back goals of the young 2021 season. It took just 11 seconds for Daniel Sprong to find the back of the net after Zdeno Chara netted one of his own against his former team.
Head coach Peter Laviolette admitted his team wasn't at its best quite yet before their Monday night loss despite sporting the NHL's best record through nine games. Without four of the team's key contributors due to league protocols along with some minor injuries, it was clear why. But with defenseman Dmitry Orlov back from the NHL absence list and captain Alex Ovechkin back again after scoring the overtime winner in Washington's first win against the Bruins, the high-volume shooting Boston offense still proved to be too much for the Caps.
Thursday night will also be the first time the Capitals will get a chance to play the Rangers after having signed legendary goaltender Henrik Lundqvist in the offseason. Of course, Lundqvist's heart condition means he won't be playing this season, and after he returned home from the hospital after successful surgery on Jan. 15, King Hank will surely have his eyes glued to the TV for this one.
Laviolette's men won't be looking to be on the losing side against the New York Rangers. Here's how to watch.
CAPITALS VS. RANGERS HOW TO WATCH
What: Washington Capitals vs. New York Rangers
Where: Madison Square Garden, New York, NY
When: Thursday, February 4, 2021, at 7 p.m. ET
TV Channel: Capitals vs. Rangers will be broadcast on NBC Sports Washington (NBC Sports channel finder)
Live Stream: You can live stream Capitals vs. Rangers on NBC Sports Washington's live stream page and on the MyTeams app.
CAPITALS VS. RANGERS TV SCHEDULE
6:00 PM: Capitals Pregame Live (LIVE)7:00 PM: Capitals vs. Rangers (LIVE)9:30 PM: Capitals Postgame Live (LIVE)
Download and subscribe to the Capitals Talk podcast
CAPITALS VS. RANGERS WHAT TO WATCH
Caps rookie netminder Vitek Vanecek was named the NHL Rookie of the Month for January thanks to a brilliant display of form. Vanecek tied former Capital Jim Carey for the longest stretch of games since making his debut registering at least a point with nine before suffering his first NHL loss in regulation on Monday night.
Alex Ovechkin sits tied for seventh all-time on the NHL's goal scoring leaders list, matching former Caps legend Mike Gartner when he scored his 708th career goal against Boston. Despite five shots on goal on Monday night, Ovechkin had little luck on his side as Bruins goaltender Jaroslav Harlak was up to the task. Still, Gartner thinks the Great 8 still has a chance to pass everybody on the all-time goals scored list.
Another thing to look out for is the availability of Samsonov and Evgeny Kuznetsov on Thursday night. While Samsonov was poised to be the No. 1 goalie this season, breaching the league protocols not only put an abrupt disruption to his season but also gave Vanecek a chance to shine. For centerman Kuznetsov, his potential return could help the Capitals offense tremendously and also allow right winger T.J. Oshie to slide back to his normal position.
CAPITALS VS. RANGERS PLAYERS TO WATCH
Nicklas Backstrom, Capitals, C (10 games, 5 goals, 8 assists, 13 points): Backstrom has been playing some of the best hockey of his career this season for Washington so far, and he's certainly needed to do so for the shorthanded Caps. Now as they get back to 100%, Backstrom's impact will still be important as the Caps look to keep their best record in the East Division.
Artemi Panarin, Rangers, LW (9 games, 5 goals, 7 assists, 12 points): As one of the Rangers lone brightspots this season, Panarin has notched at least a point in four of the last five games. Already sitting bottom of the redesigned East Division this season, New York's aspirations for this season were never high. Still, they'll look to Panarin for inspiration in the first of eight season matchups against Washington.
source
https://www.google.com/url?rct=j&sa=t&url=https://www.nbcwashington.com/news/local/how-to-watch-washington-capitals-vs-new-york-rangers/2559821/&ct=ga&cd=CAIyGjBjZWNkYTc1ZDc4NTFiNjM6Y29tOmVuOlVT&usg=AFQjCNG9HX11QpgVZ3S6wtgkeGpa5a_1LQ