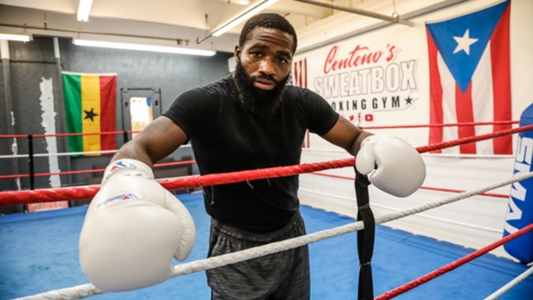 Former four-division world champion Adrien Broner returns to the ring on Saturday night from a 25-month hiatus to take on Jovanie Santiago from the Mohegan Sun Casino in Uncasville, Conn.
The last time Broner competed was back in January 2019, losing a lopsided decision to Manny Pacquiao. Since then, Broner hasn't been able to keep himself out of the headlines but for all the wrong reasons.
Broner (33-4-1, 24 KOs) was arrested for DUI in Florida back in March, which led to him having to serve seven days in jail in August due to a probation violation for a 2018 arrest for "gross sexual imposition, a fourth-degree felony, misdemeanor sexual imposition and abduction, a third-degree felony."
"AB" also admitted that he had an alcohol problem and promised to stop drinking after ballooning to around 180 pounds. Doing that and putting his sole focus on boxing allowed Broner to drop the weight in anticipation of having to make the junior welterweight limit of 140 pounds.
There are plenty of questions surrounding Broner's latest comeback. The host of Showtime Championship Boxing, Brian Custer, talks with DAZN News to help answer some of these questions.
Can he reinvent himself again?
In the past, Broner said that he's reinvented himself and the world will see the best version of Adrien Broner. Then the fight happens, and it's the Broner who rarely throws and is consistently just looking to counter-punch or for the one-hitter quitter. In the lead-up to the Santiago fight, Broner has promised the same thing again. Can we get the Adrien Broner who plowed through the junior lightweight and lightweight division or the one who mightly struggled at welterweight and was a shell of his former self?
"Here's where I've seen the maturity," Custer told DAZN News. "Because I think one of the questions I asked him was, how do we know this time?
"He said, 'The only way you'll find out is by my performance on Saturday night'. To me, that showed maturity because I think in the past, he would have just given you any answer, but he gave you an honest answer. It was, 'Hey look, if I come out Saturday, and I walk through this guy, you guys see that I've been training, and I was serious'. I think that's what we'll find out Saturday. Has he reinvented himself?
"I will say this, he has trained like a madman for this fight. That part is true. He had to drop basically 40 pounds to make 140. So I know he has trained hard for this. He even said that after this fight, he would take a week off but going right back to the gym and there's no more partying in between fights. He's going to stay active and said he wanted to fight three times this year, which I thought was really interesting because I think you want to see that you want to see an Adrien Broner that's active. I think if we see a guy who throws his hands and a guy who definitely fights three times this year, I think we've seen a changed man."
Is 140 pounds the best weight class for Broner?
Fighting between 130 and 140 pounds is where Broner notched all 24 of his knockouts. While there were flashes of his ultra-quick hands and power at welterweight, it wasn't the same in the three lower weight classes. For years, Broner had resisted a permanent move back down to junior welterweight. Starting with the Santiago fight, it appears Broner will be staying at the 140-pound division. If Broner looks good, should it be the place he calls home from now on?
"Absolutely," Custer said. "I think at 147 was just too much. Adrien, when he connects, is a really good puncher. There are other guys there that can throw too. I think 147 was too big for Adrien. I think 140 is good for him because he can use his feet, and he can use his power. I think it's the optimum weight for him. I know people sometimes they tried to joke and say that the Bronerweight which is between 140 and 147.
"I think 140 is the best thing for him because I think he can use his lightning-fast hands. He's got the power to really hurt people. There can be some really big fights for him at 140 and, and I'd like to see him stay right at 140 and make that division just as hot as lightweight is right now."
Was he trying to be too much like Floyd Mayweather Jr., instead of trying to be the first Adrien Broner?
Throughout the years, comparisons have been made between Broner and Mayweather from the way Broner dresses, going to strip clubs and tossing money in the air to the shoulder roll inside the ring.
The narrative is that Broner was trying to emulate Mayweather too much in every facet instead of focusing on what was best for him.
"No, Custer said. "When you come up under like Floyd, you're going to take a page from that blueprint. But then I think he put his own twist on it. For Adrien, with the success he had in the ring, the outside success came as well. At the time, HBO was really trying to blow him up. A lot came to him very quickly. That's hard for a kid that comes from the hood of Cincinnati, who's never had anything (to) all of a sudden to be multi-time world champion (and) now you've got a few million dollars. How do you handle that?
"He didn't have a playbook on how to handle that, and he got out there. He didn't know. The one thing he said to me I thought was really interesting. He said at the time that he didn't even realize how popular he became. He just thought it was him just going out and turn it up. But he didn't realize how popular he had gotten. As much as he wanted it, he got it. He got what he wanted, and I don't know if he knew how to handle it. The thing about Floyd is Floyd knew how to handle it because he came from a fighting family. He knew how to handle that thing. Then he had really good people around him to steer him in the right way to keep that money. I think that was where with Adrian, he didn't have anybody. He just had him."
Is this the last stand for Adrien Broner?
Broner has received one significant opportunity after another even though he didn't deserve it. The 31-year-old was getting chances at megafights with Manny Pacquiao and Mikey Garcia even after losses or lackluster performances because of the ratings he'd garner and the butts he put in the seats.
Broner is 0-2-1 in his last three bouts against Garcia, Jessie Vargas, and Pacquiao. Is the Santiago fight Broner's last shot at glory?
"Well, I wouldn't say in fighting because of his name and what he's built," Custer said. "He's always going to be a draw. Now is this his last stand when it comes to headlining and maybe a pay-per-view headliner?
"Sure. At this point, you can't afford losses and bad losses and think that you're still going to be a headliner for pay-per-view or a headliner for main event type of fights. Now, it will be the opposite. All of a sudden, now, you just become the opponent. I think he would still get fights because of his name. But all of a sudden, he's the B-side as opposed to the A-side."
source
https://www.google.com/url?rct=j&sa=t&url=https://www.dazn.com/en-FR/news/boxing/broner-vs-santiago-questions-surround-the-return-of-adrien-broner/1xeulnntt1r3m1woj770syxwbq&ct=ga&cd=CAIyGjM5YWU2NzNiY2UyZGJkMGI6Y29tOmVuOlVT&usg=AFQjCNH602Ivtk0V1CCnd6mIijzKgG3Ahw