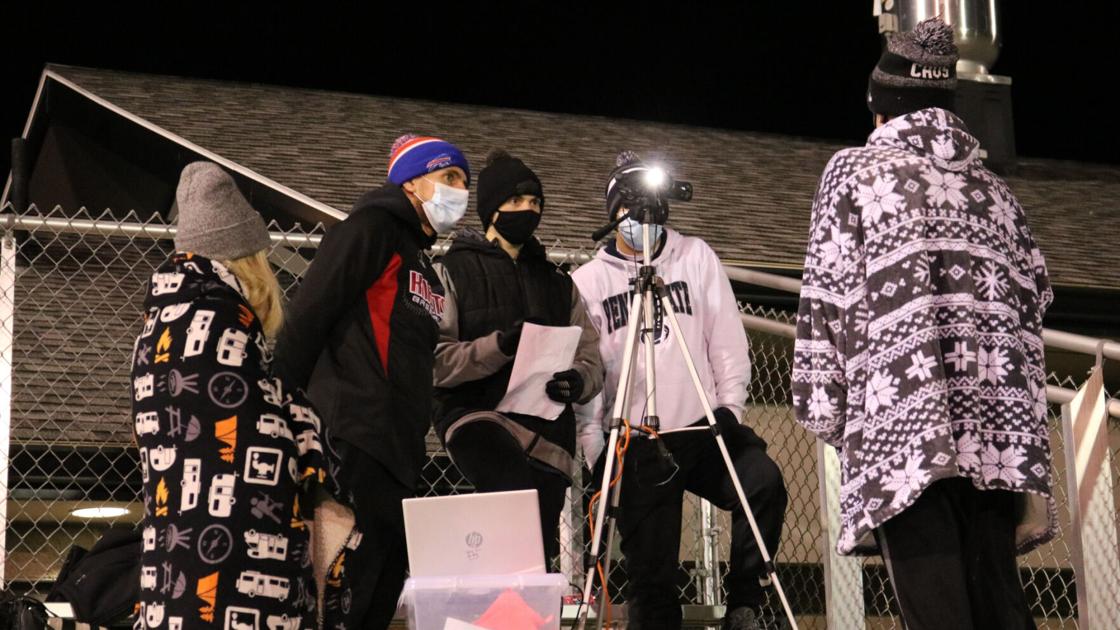 LE ROY — Le Roy principal Tim McArdle understands the importance of the student-athlete, and the important role they play within their community.
A student-athlete himself at Wellsville High School, where he graduated in 1999 as a three-sport athlete, McArdle went on to graduate with his bachelor's degree from St. Bonaventure University four years later and then earned his master's in 2004 at SBU as well.
McArdle's relationship with Le Roy has been a match made in heaven.
In this social media world we live in today, McArdle appreciates giving back to his student-athletes so that one day they can do the same.
That blueprint has been holding steady since McArdle came to Le Roy back in 2013.
In fact, McArdle has been instrumental in getting school spirit back on the Le Roy high school campus, in the school hallways, back in the stands and throughout the entire Le Roy sports community.
While the popular 'Le Roy Calvary' has been put on hold since the pandemic hit last March, McArdle wanted a way to keep his student body connected while things slowly improve.
McArdle has always been a strong supporter for sports videos, photos and coverage via -Knights Twitter but wanted to take that coverage to another level this fall.
And with limited spectators allowed at games this fall, sometimes no more than 50 in attendance, McArdle decided to start giving the fans — from both teams — an opportunity to watch the games live.
While several other schools have since joined forces to stream their own team's home games as well, the difference is Le Roy's stream has play-by-play announcers bringing the audience all the up-to-date action \, along with halftime and post-game interviews, instead of just a simple stream with no sound.
Enter Ty Strollo, a Le Roy junior with aspirations of attending broadcast/journalism school at Syracuse University in a few years.
Syracuse is known for being the starting point for many of nation's top sportscasters including Bob Costas, Marv Albert, Dick Stockton, Len Berman, Nick Wright and Craig Carto.
And who knows, maybe Ty Strollo will be on that list someday.
Strollo, who usually plays football in the fall but because that was postponed until March of 2021 decided to play soccer for the Knights this fall. Strollo, will be considered a four-sport athlete tis 2020-2021 school year.
Strollo does the color commentary for all the girls games at Hartwood and he and McArdle make a winning combination.
Other Le Roy students help out with the video camera including senior Bailey Morse and sophomore McKenna Coniber. When the girls are playing, Morse runs the camera and when the boys are at home, Coniber takes the reigns.
During halftime of these games, McArdle usually has a few athletes join the show to talk about their sport and weekly highlights on how their team is doing, including soccer and cross-country athletes that aren't competing that night.
His post-game interviews after each stream, has some of the standout players join the show to talk about the game and provide some in-depth analysis.
When Strollo's team has a home game, McArdle is extra busy as he takes photos and calls the second half on the video stream.
It's non-stop for the Le Roy principal/photographer/videographer/social media director/etc...
But that's just fine with McArdle — he enjoys every minute.
"Giving kids opportunities are huge," McArdle said. "This is great experience for them. We've had kids take pictures for me over the years as well for our social media pages. We also have kids produce videos for our social as well from time to time — great experience."
For more about Le Roy's live streams and social media make sure to join this week's episode of 'Inside High School Sports.'
source
https://www.google.com/url?rct=j&sa=t&url=https://www.thedailynewsonline.com/sports/spotlight-le-roy-taking-live-streaming-social-media-coverage-to-another-level/article_0de02058-7925-5d5c-80d0-0c9b60eea662.html&ct=ga&cd=CAIyGjBjZWNkYTc1ZDc4NTFiNjM6Y29tOmVuOlVT&usg=AFQjCNGedbQoFXkkHpPYFXF8SvixISLrBA