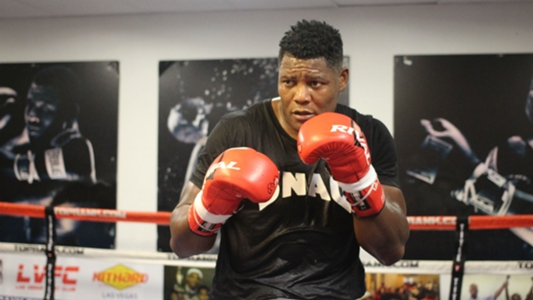 Luis Ortiz made quick work of Alexander Flores in his return to action.
The biggest question heading into his main event tilt versus Alexander Flores was how Luis Ortiz would look after being out of action for nearly a year following a second knockout loss to Deontay Wilder.
Ortiz appeared to not miss a beat as he scored a rather peculiar 45-second knockout over Flores at the Microsoft Theater in Los Angeles.
The Ortiz came out aggressive. Immediately, the 41-year-old fired a double jab followed by a missed right hook that had evil intentions behind it. He continued to stalk Flores and got him against the ropes. Ortiz threw a right hook to the body which saw Flores' head go into Ortiz's bicep and he dropped to the canvas. Flores made it back to his feet and appeared to have injured his leg. Seeing that Flores was injured, referee Thomas Taylor stopped the fight.
At the conclusion of the fight, Flores told Fox Sports that when his arm connected with Ortiz, he hurt his eye which caused him to "go black" and caused his legs to go numb.
Ortiz (32-2, 27 KOs, two no contests) gets back on track after suffering a seventh-round loss to Wilder in November 2019 after leading on all three scorecards. Where he goes from here is unknown as WBC champion Tyson Fury is returning to the ring on Dec. 5 with an unknown foe and unified champion Anthony Joshua takes on Kubrat Pulev on Dec. 12. There's no interest in a Wilder trilogy considering their two fights ended inside the distance with Ortiz on the wrong end of being knocked out.
In the co-main event, Frank Sanchez sent Brian Howard to the canvas three times before dispatching him at 2:07 the fourth round to remain undefeated in 16 fights. Sanchez nearly put Howard away late in the third round but the latter survived. Sanchez realized he had Howard ripe for the taking and made sure that Howard wouldn't survive another round. A quick two-punch combination sent Howard to the mat just 19 seconds into the fourth round.
Howard made it up but he didn't stay upright for long as Sanchez dropped him with a thudding left hook. Howard, showing a ton of heart, made it up to his feet. But Sanchez kept the foot on the gas pedal and blasted Howard with a powerful right hook to send him into the ropes. Realizing that Howard wasn't going to mount a comeback, referee Jerry Cantu stepped in and waved the fight off.
Ortiz vs. Flores fight card results
Luis Ortiz def. Alexander Flores via
Frank Sanchez def. Brian Howard by knockout at 2:07 of the fourth round.
Michael Coffie def. Joey Abell via TKO at 0:49 of the second round.
Carlos Negron def. Rafael Rios by TKO at 2:33 of the second round.
source
https://www.google.com/url?rct=j&sa=t&url=https://www.dazn.com/en-DK/news/boxing/luis-ortiz-knocks-out-alexander-flores-in-45-seconds/16oemd2x4ngqo1r8557zclvkor&ct=ga&cd=CAIyGjM5YWU2NzNiY2UyZGJkMGI6Y29tOmVuOlVT&usg=AFQjCNG07umZClHDMvwqABSHyUUVajCoRw