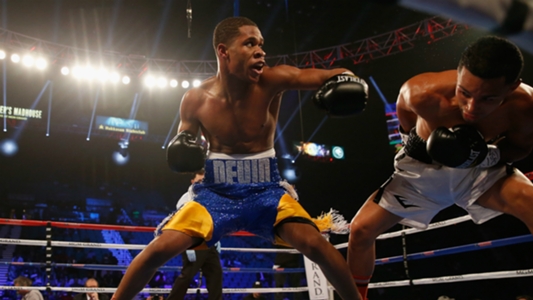 When Devin Haney stopped Zaur Abdullaev to become the interim WBC lightweight champion in September 2019, the plan was to next face Vasiliy Lomachenko, who at the time held the WBC, WBA (super), and WBO titles.
But Lomachenko wouldn't acknowledge the possibility of taking on Haney and instead had his promoter at Top Rank, Bob Arum, petition the sanctioning body last year to install him as the "Franchise" champion. The WBC did and Haney was elevated to full titleholder.
Lomachenko went the route of facing Teofimo Lopez in the middle of October. Lopez upset Lomachenko to become the three-belt lightweight titlist. Seeing what Lopez did to Lomachenko made Haney feel somewhat bitter because he wanted to be the one to knock him off the top of the mountain.
"I do definitely wish that it was me because that was a fight I felt that was a very winnable fight for me," Haney said on the Ak and Barak Show. "I saw myself beating him. I knew that he wasn't what everyone was portraying him to be."
Lomachenko was a heavy favorite to beat Lopez. Instead, Lopez was the more active of the two and pressed the action throughout to give him the victory and make him the new of the 135-pound division. Watching the fight and seeing how it eventually played out came to the surprise of Haney.
"I didn't see Teofimo beating Loma," Haney admits. "I thought that Loma would be too smart for him, pretty much outbox him. Teofimo surprised me. He went in there and was more busy. It really wasn't what Teofimo did. It was what Loma didn't do. He didn't even try to punch."
Now, with Lomachenko losing and Haney (24-0, 15 KOs) undefeated and on the rise, does it mean a future clash is out of sight, out of mind? According to "The Dream," the answer is no.
"Of course, there's still value in the fight," Haney said. "But it's like, 'Do I even want to fight you (Lomachenko)?'
"When it was something, he wouldn't even mention my name or say anything about me. Not a word. He would act like I didn't exist. Why would I even give you another shot at it? Of course, it would still be a huge fight, but it's an ego thing."
source
https://www.google.com/url?rct=j&sa=t&url=https://www.dazn.com/en-LA/news/boxing/devin-haney-felt-a-little-bitter-that-he-wasnt-the-one-to-dethrone-vasiliy-lomachenko/umzko3beugi71akynq7rbecp6&ct=ga&cd=CAIyGjM5YWU2NzNiY2UyZGJkMGI6Y29tOmVuOlVT&usg=AFQjCNGKJTbgvbPoIb_pR2iFEy8IY7S7bA