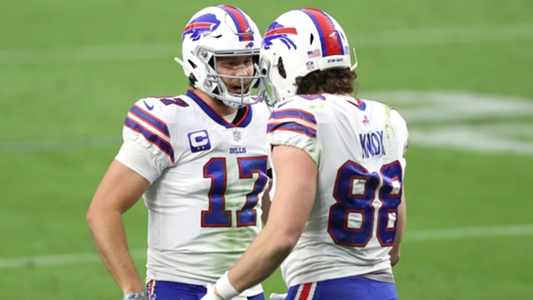 It has been a rollercoaster start to the season for the Tennessee Titans, who won their first three games of the campaign before several positive COVID-19 cases forced the postponement of the next two contests.
The most recent postponement affects Week 5's matchup with the Buffalo Bills, which was originally scheduled for Sunday, Oct. 11. Instead, the game is now set to be played on Tuesday as the NFL tries to ensure the safety of both teams while still getting the contest in the books.
Like the Titans, the Bills have also enjoyed a perfect start to the 2020 season. Buffalo has played all four of its scheduled games without a positive test.
Why was the Bills-Titans game postponed?
The Titans have had 24 confirmed positive coronavirus tests — including 13 players — as of Sunday, when another staff member had a positive result, according to ESPN.
The Titans had returned to their team facility on Saturday, but the facility was shut down again with Sunday's news.
When will the Bills-Titans game be rescheduled?
Date: Oct. 13
Time: 7 p.m. ET
The NFL pushed the game to Tuesday, Oct. 13. With the NFL reporting no new coronavirus cases on the Titans on Monday, the league is hoping the game can be played Tuesday as planned.
It's the second straight game the Titans have had postponed, as their Week 4 matchup with the Steelers was moved to Oct. 25 following the original spate of positive tests. As with Tennessee's earlier postponement, this one will have a knock-on effect as several other games will have to be rescheduled — most notably Week 6's Thursday night game involving the Bills and Kansas City Chiefs. That has been rescheduled to Monday, Oct. 19.
How to watch the Bills-Titans game: Live stream, TV channel
The Bills-Titans game is available on DAZN in Canada.
DAZN offers new customers a 30-day free-trial period. You can learn how to sign up for a free trial here.
DAZN Canada streams every NFL game and RedZone. It is available on web browsers at DAZN.com, plus many popular streaming devices, including: iPhone, iPad, Android phones and tablets, Amazon Fire tablet, Amazon Fire TV, Android TV, Apple TV, Google Chromecast, LG Smart TV, Panasonic Smart TV, Samsung Smart TV, Sony Smart TV, Playstation 3, Playstation 4, and Xbox.
The Bills-Titans game is also available on TSN3 and TSN5.
Bills schedule 2020
| | | | |
| --- | --- | --- | --- |
| WEEK | DATE | OPPONENT | Time/Result |
| Week 1 | Sept. 13 | vs. Jets | W, 27-17 |
| Week 2 | Sept. 20 | at Dolphins | W, 31-28 |
| Week 3 | Sept. 27 | vs. Rams | W, 35-32 |
| Week 4 | Oct. 4 | at Raiders | W, 30-23 |
| Week 5 | Oct. 13 | at Titans | 7 p.m. ET |
| Week 6 | Oct. 19 | vs. Chiefs | 5 p.m. ET |
| Week 7 | Oct. 25 | at Jets | 1 p.m. ET |
| Week 8 | Nov. 1 | vs. Patriots | 1 p.m. ET |
| Week 9 | Nov. 8 | vs. Seahawks | 1 p.m. ET |
| Week 10 | Nov. 15 | at Cardinals | 4:05 p.m. ET |
| Week 11 | BYE | — | — |
| Week 12 | Nov. 29 | vs. Chargers | 1 p.m. ET |
| Week 13 | Dec. 7 | at 49ers | 8:15 p.m. ET |
| Week 14 | Dec. 13 | vs. Steelers | 8:20 p.m. ET |
| Week 15 | Dec. 20 | at Broncos | TBD |
| Week 16 | Dec. 28 | vs. Patriots | 8:15 p.m. ET |
| Week 17 | Jan. 3 | vs Dolphins | 1 p.m. ET |
Titans schedule 2020
| | | | |
| --- | --- | --- | --- |
| WEEK | DATE | OPPONENT | Time/Result |
| Week 1 | Sept. 14 | at Broncos | W, 16-14 |
| Week 2 | Sept. 20 | vs. Jaguars | W, 33-30 |
| Week 3 | Sept. 27 | at Vikings | W, 31-30 |
| Week 4 | BYE | — | — |
| Week 5 | Oct. 13 | vs. Bills | 7 p.m. ET |
| Week 6 | Oct. 18 | vs. Texans | 1 p.m. ET |
| Week 7 | Oct. 25 | vs. Steelers | 1 p.m. ET |
| Week 8 | Nov. 1 | at Bengals | 1 p.m. ET |
| Week 9 | Nov. 8 | vs. Bears | 1 p.m. ET |
| Week 10 | Nov. 12 | vs. Colts | 8:20 p.m. ET |
| Week 11 | Nov. 22 | at Ravens | 1 p.m. ET |
| Week 12 | Nov. 29 | at Colts | 1 p.m. ET |
| Week 13 | Dec. 6 | vs. Browns | 1 p.m. ET |
| Week 14 | Dec. 13 | at Jaguars | 1 p.m. ET |
| Week 15 | Dec. 20 | vs. Lions | TBD |
| Week 16 | Dec. 27 | at Packers | 8:20 p.m. ET |
| Week 17 | Jan. 3 | at Texans | 1 p.m. ET |
source
https://www.google.com/url?rct=j&sa=t&url=https://www.dazn.com/en-CA/news/nfl/bills-titans-game-time-tv-channel-live-stream-schedule-for-nfl-week-5-matchup/39wtcb5ao1pv1fcmt08u22vkd&ct=ga&cd=CAIyGjM5YWU2NzNiY2UyZGJkMGI6Y29tOmVuOlVT&usg=AFQjCNFs__bh52-nCDi70Jk3UpwLcV-3XA