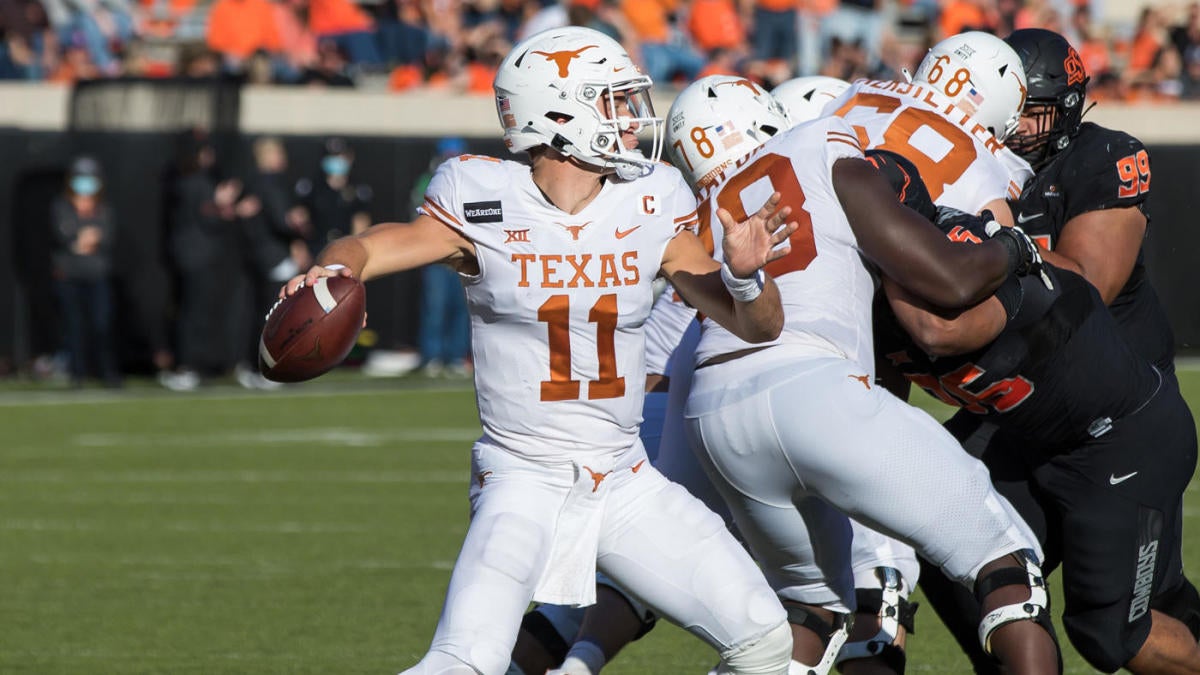 No. 6 Oklahoma State did everything in its power to give away the game against Texas on Saturday. In the end, the Cowboys succeeded, and the last remaining unbeaten team in the Big 12 is no more after a 41-34 loss to the Longhorns in overtime. It was the third overtime game for Texas already this season, and it also marks its first road win over a top-10 team since Nebraska in 2010.
This is a game Oklahoma State should have won. Quarterback Spencer Sanders was great. He accounted for 400 yards and four touchdowns -- both of which were career-highs. And once again, he extended drives with his feet, including the seven-play, 63-yard march to tie the game at 34 with just over a minute remaining. His favorite target, Tylan Wallace, was a monster with 11 catches for 187 yards and two touchdowns.
Sanders made his fair share of mistakes, and there if there's a knock on him, it's that he's a little careless with the football. His ability to make plays outweighs that risk, but it is something he needs to get under control.
There were a lot of things to learn from this game, so let's dive into some takeaways as Texas keeps its Big 12 Championship Game hopes alive.
Mistakes killed the Cowboys
Oklahoma State will walk away from this game knowing it gave Texas every opportunity to win. The Cowboys were -4 in the turnover battle with Sanders accounting for three: two fumbles lost and an interception. Those four turnovers resulted in 21 points for the Longhorns. Additionally, a 100-yard kickoff return midway through the third quarter by D'Shawn Jamison kept Texas within striking distance after Oklahoma State went up 31-20. Overall, those mistakes resulted in 27 of Texas' 34 points in regulation. That's how you lose a game.
Oklahoma State's defense shouldn't be blamed
Again, mistakes were the thing that cost Oklahoma State the win. The first three turnovers, all in the first half, allowed Texas to start in the red zone every time. Somehow, that only resulted in 13 points for the Longhorns. The worst-case scenario was easily three touchdowns. That's putting the Pokes' defense in stressful situations, and they handled themselves well. The fourth turnover gave Texas the ball at its own 41-yard line. The Horns did put together an impressive 15-play drive on that possession, but again, they had good field position to start.
Texas' offense overall wasn't efficient. It had the ball 15 times, and only twice did it move the ball more than 30 yards. Both of them were touchdown drives, but still, that's a good percentage for the Cowboys' defense. The Horns offense averaged just 3.8 yards per play and were 2 of 15 on third downs. The Cowboys had tight coverage down the field, but Texas quarterback Sam Ehlinger -- as he so often does -- made huge plays late on fourth down. At some point, if you give him the opportunity, he's going to make a play.
Joseph Ossai was player of the game
And that's with Wallace having a huge day for Oklahoma State. Still, the Texas linebacker was everywhere, and he was the ultimate difference-maker after he executed the game winning sack on Sanders. Ossai finished the day with 12 tackles, three sacks, a forced fumble and a fumble recovery. Ossai has quietly been playing great all year, but he earned big time all-conference looks today.
source
https://www.google.com/url?rct=j&sa=t&url=https://www.cbssports.com/college-football/news/texas-vs-oklahoma-state-score-live-game-updates-college-football-scores-ncaa-highlights-full-coverage/live/&ct=ga&cd=CAIyGjBjZWNkYTc1ZDc4NTFiNjM6Y29tOmVuOlVT&usg=AFQjCNGOu21Y6kNVGptZHZNcz9gkvbEKMA