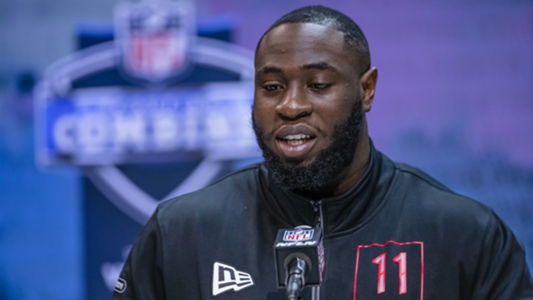 DAZN's Adnan Virk catches up with the Ottawa native in the latest episode of "Rookie Diaries."
Neville Gallimore is officially an NFL player.
The Cowboys rookie got his first taste of NFL action in Dallas' season-opening loss to the LA Rams on Sept. 13, and the 23-year-old is eager for more.
"It's part of the dream come true, but obviously now it's time to turn it up a notch and definitely start to earn my stripes on that field," Gallimore told DAZN's Adnan Virk in the latest episode of "Rookie Diaries." "Definitely a surreal moment. Mission accomplished, but now it's time to move forward."
Gallimore appreciated getting his "feet wet" in his first NFL game, but says he wasn't overwhelmed by the occasion "because at the end of the day it's still football."
"At that moment — literally — it's just lining up, getting the call and playing ball," the Ottawa native said. "Once I actually got in the game I was like, 'OK, it's time to play football now, let's get after it.' So that was cool. Once I actually got on the field I wasn't nervous."
In addition to his on-field debut, Gallimore shared with Virk what's been happening off the field in his life. The rookie defensive tackle is a truck aficionado, so one of the first things he did after signing with the Cowboys was to purchase himself a 2020 Ford F-150 Raptor.
"I love Ford. I love Ford Raptors. I love the F-450s and all that, so I said, 'when I get an opportunity [to buy my] first car, what I'm gonna get is a Ford Raptor,'" Gallimore explained. "I love my truck. I call it big Lexi."
Watch "New Era and New Wheels for Neville Gallimore" and full episodes of "Rookie Diaries" on DAZN. Click here to sign up for a free trial.
source
https://www.google.com/url?rct=j&sa=t&url=https://www.dazn.com/en-CA/news/nfl/rookie-diaries-new-era-and-new-wheels-for-neville-gallimore/1pv6yvs6dqyy11lnya8rl7l6co&ct=ga&cd=CAIyGjM5YWU2NzNiY2UyZGJkMGI6Y29tOmVuOlVT&usg=AFQjCNHHzIz-VLYtO83XUPo6JWMlYa8aMw