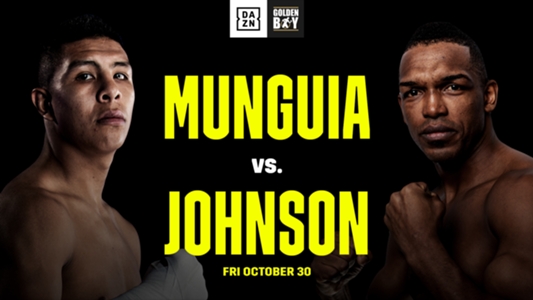 Munguia gets KO after busting Johnson's lip open with vicious uppercut
Replay shows that Munguia's right uppercut sliced Johnson's lip open in the sixth round, not a head-butt. The ringside doctor is stopping it. Therefore, your winner by knockout is Jaime Munguia.
Round 6
Munguia goes to the body. He's trying to create space to work and he does, he increases his punching volume and is teeing off. Now he's making Johnson back up. But again, Johnson responds with short right hands to the head. Munguia isn't moving his head at all. Johnson is landing that short right inside whenever he pleases. Ref stops the action and has a ringside doctor check on Johnson's busted lip. Nasty gash and Johnson is given several seconds, before the action resumes. Munguia is all over Johnson as the action resumes. Johnson's corner is saying a head-butt caused the busted lip; however, it looks like Munguia's right uppercut did the damage. (10-9 Munguia, 58-56 Munguia)
Round 5
Munguia punching and moving after his output. Munguia inexplicably isn't using his jab to keep a charging Johnson at bay. Perhaps because he's landing his right uppercut seemingly at will, as Johnson hasn't shown any defense for it. Some stinging shots from Munguia land inside. But Munguia is fighting Johnson's fight. Johnson wants it to be inside and grueling. Close round, with Munguia slightly taking it. However, it could have easily gone the other way, too. (10-9 Munguia, 48-47 Munguia)
Round 4
Johnson looks fatigued. Johnson is making this an ugly fight with his bully boxing, but Munguia is responding by boxing back inside, especially with that right uppercut. Johnson is using a lot of energy, throwing his weight and leaning on Munguia. He does enough to take the round. (10-9 Johnson, 38-38)
Round 3
Johnson goes back to smothering Munguia, who now shows movement and connects on several punches. Johnson landing those short rights to the head. Munguia has to learn to move his head. He's too upright. Munguia needs to jab to keep Johnson off of him. Munguia unleashes a few uppercuts and now a couple of left hooks. A nice uppercut and another sharp uppercut from Munguia. That late work on the counterpunches inside give the slight nod to Munguia. (10-9 Munguia, 29-28 Munguia)
Round 2
Munguia pops Johnson's head up with a short uppercut inside. Johnson keeps finding a home for a short right hook because Munguia doesn't move nearly as much as he should. Munguia digs a right to Johnson's body, but Johnson presses forward and scores on a lunging left hand. Munguia creates space and lands punches while backpedaling. A crunching right uppercut lands for Munguia. Solid work. And another and another moments later. It looks like Munguia's right uppercut is a major weapon at this point. (10-9 Munguia, 19-19)
Round 1
Johnson already smothering Munguia up against the ropes. He's already landed a couple of big punches. And now an overhand, chopping right hand that connects as well. Johnson is planting his shoulder into Munguia's chest and then letting loose with punches. Now, Johnson digs to the body, but Munguia fights back and they're in a brief clinch. Johnson's round, but Munguia lands some hooks to the head to gain Johnson's respect late. (10-9 Johnson)
And here is the undefeated Jaime Munguia
The former junior middleweight world champion is making his ring walk, mask on as a precaution to the ongoing COVID-19 pandemic.
Here comes Tureano Johnson
The battle-tested veteran is making his way to the ring right now.
The Munguia-Johnson main event is moments away
Will Jaime Munguia continue to stake his claim as a force in the middleweight division? We're about to find out if he'll take a big step forward.
Co-main event: Rashidi Ellis outclasses Alexis Rocha by unanimous decision; welterweights
Judges score it 116-112, 116-112 and 115-113 all in favor of Ellis. He was the quicker, cleaner puncher — especially with his counterpunching, which never allowed Rocha to get comfortable and unleash his true power.
Round 12
Now, Rocha is bringing the thunder, pounding away at Ellis, who's pressed up against the ropes. He better move because Rocha is teeing off in desperation. Still, Ellis is sticking in his counterpunching. Ellis lands an uppercut that makes Rocha think about moving forward. Ellis is just too quick for Rocha — with both his hand speed and feet. The counterpunching has been spot on, even in this 12th round. Ellis should win comfortably. Let's see how it's scored by the judges. (10-9 Ellis, 117-111 Ellis)
Round 11
Rocha is going to need to let his hands go as he's clearly behind on the cards with time running out. Anytime Rocha presses forward and lands a thudding punch, Ellis unleashes a razor-sharp counterpunch. Rocha needs fireworks to have a chance. He's not showing any urgency. (10-9 Ellis, 107-102 Ellis)
Round 10
Rocha digs a punch to the body, but Ellis comes right back and returns fire upstairs. Ellis' counterpunching has been precise and full of sting over the course of this bout. Rocha lands a couple of shots but inexplicably lets him off the hook. Ellis ducks under a punch and comes back with a left hook that bangs across Rocha's jaw. (10-9 Ellis, 97-93 Ellis)
Round 9
Rocha's corner imploring him to "wake up!" It takes him some time, but he has Ellis up against the ropes and is punching away with power shots. Some land, some don't, but he's showing the urgency his corner pleaded for and furthermore, the pressure he needs to rally. Ellis working well with his back against the ropes, as he connects on a few shots and then works his way to the middle of the ring, where he peppers Rocha with more shots to steal the frame. Rocha can't afford to give rounds away. (10-9 Ellis, 87-84 Ellis)
Round 8
Ellis with a quick uppercut, but Rocha plants a straight left into his opponent's chest. Rocha back to working the body and he's landing some thudding shots. When Rocha closes the space between he and Ellis, he's getting good results. When he allows Ellis to move freely, he gets tagged. Close round, with the slight edge going to Ellis. (10-9 Ellis, 77-75 Ellis)
Round 7
Ellis showing better movement and is back to boxing slickly. Plus, Rocha is doing him a favor by not attacking the body. Ellis is moving well and keeping Rocha at bay because of it. He adds some stinging body shots moments later. Now, Rocha with some body shots, but the output is too late. Ellis takes the round. (10-9 Ellis, 67-66 Ellis)
Round 6
Rocha is smothering Ellis, walking him down and pressing him up against the ropes. Ellis isn't moving as much last few rounds and that's a sign that he respects Rocha's power. However, he's going to need to move to avoid Rocha's power. Rocha just landed a sweeping left hook to the body that brushed Ellis back. (10-9 Rocha, 57-57)
Round 5
Rocha now punching through Ellis' punches and he's successfully closing the space between them. He has Ellis up against the ropes and is digging punches into his body. The ref warns Rocha for another low blow, and this one was blatant. That's a way to slow Ellis down. Nice left hook lands for Rocha, but Ellis comes back with a straight left that connects flush. Rocha is walking Ellis down and attacking the body. Let's see how Ellis responds moving forward. (10-9 Rocha, 48-47 Ellis)
Round 4
Rocha splits Ellis' guard with a stiff left. Rocha is stalking Ellis well this round, as he lets loose on a left hook that partially lands. He adds a short left upstairs moments later. Ellis responds seconds later with a quick combination. Ellis tells Rocha "you can't hit me," as the ref continues to warn the fighters to zip it in the ring. Ellis' late surge might have been enough to take the round, but we're giving it slightly to Rocha. Ellis really hit Rocha with the John Cena "You can't see me" hand gesture during the round. Hilarious.
(10-9 Rocha, 39-37 Ellis)
source
https://www.google.com/url?rct=j&sa=t&url=https://www.dazn.com/en-US/news/boxing/jaime-munguia-vs-tureano-johnson-live-updates-results-highlights-from-the-full-card/1dmdh98v79efi11s9u8frzwszy&ct=ga&cd=CAIyGjM5YWU2NzNiY2UyZGJkMGI6Y29tOmVuOlVT&usg=AFQjCNG9UJ72PJCo2Xp0QkWdrJsoFkMyvw