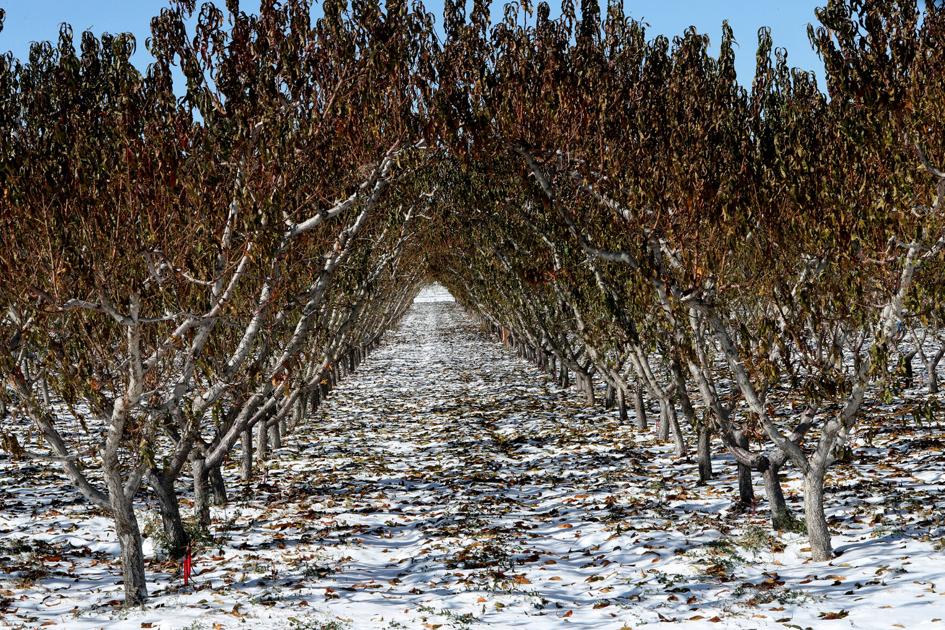 For the third time in 18 months, local growers and researchers are evaluating what level of impact freezing temperatures may have on fruit trees and grapevines.
Temperatures that fell in some cases to the single digits early this week could affect peach buds next year and damage tissue that leaves peach trees more vulnerable to disease infection.
But Ioannis Minas, an assistant professor of pomology — the science of fruit-growing — at Colorado State University, who works at the school's Orchard Mesa Research Center, said he's not overly worried about possible affects to peach trees, or for that matter pear and apple trees.
"But I'm worried for cherries," he said.
Cold snaps like the one this week can cause damage in the case of trees that haven't hardened off for winter. Minas said trees gradually shift their tolerance to cold temperatures, but the rapid freeze near the end of a warm October could leave them more vulnerable.
"So the tree doesn't have the time to acclimate. It still thinks, 'OK, it's still early in the fall,'" Minas said.
Minas said local peach tree varieties are more responsive to cold signals than cherry trees, which is why cherry trees are likely to be affected more, with some level of bud damage being assured.
Horst Caspari, a CSU viticulture professor and state viticulturist who works at the Orchard Mesa site, said he and his staff are cutting into grapevine buds to determine what, if any, damage the recent cold temperatures have had.
"As grape varieties (and tree fruit species) differ in cold hardiness it will take us a few days to get a complete picture," he said in an email. "What I can say right now is that initial results from half a dozen varieties are very encouraging, as we are finding very little damage. We will be evaluating a lot more varieties in the next few days and should have a more complete answer later in the week."
A heavy freeze in April wreaked havoc on local fruit growers, heavily impacting production of peaches and also affecting other fruit production. A 2019 October freeze also had a negative impact locally.
The winter storm that blew in Sunday resulted in record-low temperatures of 16 degrees Monday morning and 11 degrees Tuesday morning for Grand Junction.
Erin Walter, a forecaster at the National Weather Service in Grand Junction, said the lowest-ever temperature for October recorded in Grand Junction was 6 degrees, on Halloween last year.
She said temperatures as low as 5 degrees were reported Tuesday morning in Fruita and Palisade. Minas said the freeze brought a low temperature of 9 degrees at Orchard Mesa. Bruce Talbott of Talbott Farms, a major Palisade producer of peaches and other fruit, said the coldest temperature he saw Monday night was 11 degrees, though there likely was a lot of temperature variation around the valley because of the lack of wind that night.
Sunday night was windy, which results in fairly uniform temperatures, whereas wind-free nights can result in temperature inversions with warmer temperatures up higher. When there are wind-free conditions, growers can use wind machines to try to introduce warmer air into their orchards. Talbott said that although some growers did that Monday night, Talbott Farms didn't bother because of the presumed level of damage that occurred Sunday night.
"You know, I hate anything that sets a record," he said of this week's low temperatures. "…Records are not good. We like benign and boring."
While peach bud damage is being assessed this week, both Talbott and Minas said the impact of bud damage on the next year's crop could be minimal because only a small percentage of buds need to flower to get a full crop. But tissue damage to peach trees can leave them more prone to infection by diseases including Cytospora canker, a fungal disease that at Talbott Farms can limit the life of an orchard to about 20 years before it needs replanting.
Minas said CSU may make some recommendations for spraying trees to address the disease threat after the freeze damage has been more fully assessed.
Talbott said young trees don't harden off as well before winter as older ones do, and some may suffer wood death and be lost to the freeze as happened with some 1-year-old trees at Talbott Farms as a result of last October's freeze.
He said hardening measures growers take, such cutting off watering and fertilizing to "put plants to be bed" before they can be freeze-prone, help minimize the affects of early fall freezes.
Although heavy snows this week caused limb damage to some trees around Grand Junction, Talbott said he thinks the Palisade area got less snow, minimizing the damage to orchards in that regard. Caspari said the snows didn't affect grapes in part because they are predominantly grown in narrow hedges so there isn't much snow loading from the top, and also because of the use of trellis systems with strong posts and wires designed to support a heavy load of fruit.
For Talbott, the latest weather tops off what has been an eventful year that included not just this spring's crippling freeze but dealing with a pandemic, an associated drop in local tourism, air impacts from forest fires and other issues in what he called "the most contentious election in my memory."
"I will be so happy when 2020 is over. There have been so many things happening and continuing to happen it's almost become a Greek tragedy," he said.
source
https://www.google.com/url?rct=j&sa=t&url=https://www.gjsentinel.com/news/growers-evaluate-impacts-of-another-freeze/article_e0a384ac-186d-11eb-b3e1-fbf7dfa43d05.html&ct=ga&cd=CAIyGjIxZjdhOWI5MTc2ODU5MjQ6Y29tOmVuOlVT&usg=AFQjCNGpw3f6EMzp8kR_NMyvKGB3DsWVHw