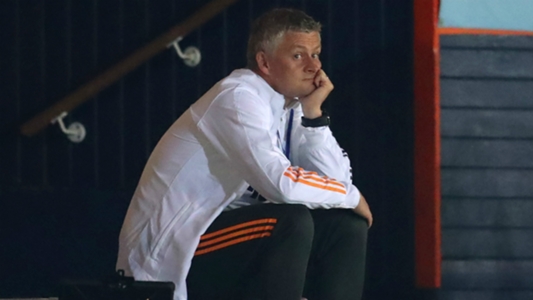 Steve Bower and Greg Brady discuss the Red Devils' early-season woes.
What's up with Manchester United?
The Red Devils laid an egg in their first Premier League game of the season. United fell 3-1 to visiting Crystal Palace in a game the team had hoped would be the start of a succesful campaign under Ole Gunnar Solskjaer. It still may be — it was only the first of 38 games, after all — but the slow start has already set off some alarm bells as teams involved in the hyper-competitive title race can't afford to be dropping any points to the likes of Palace.
In the latest episode of "Shoot-Out" on DAZN, hosts Greg Brady and Steve Bower discuss the pressure facing Solskjaer and United to perform week in and week out.
"We know how much more of a talented squad they are than Crystal Palace, and they didn't play like it," Brady said of the Red Devils' performance in last week's match. "They better not lose to too many teams that they have more talent than — which is basically 15 or 16 other Premier League teams."
Both Brady and Bower agree that the United squad is among the most talented in the Premier League — Brady called it a "top five roster " — but Bower noted that perhaps one or two more pieces should be added during the current transfer window to make United a true contender.
To that end, Bower said that Solskjaer hasn't had the ability to transform his squad over the offseason the way his counterparts at Chelsea, Manchester City, Liverpool, Arsenal and Tottenham have.
"He needs more, he expected more," Bower said of Solskjaer. "Give him the players, give him the backing that [Frank] Lampard has got, that [Pep] Guardiola has got, that [Jurgen] Klopp got last week — right at the top of the table — that certainly Mikel Arteta has had and that Jose Mourinho's suddenly had. "
Watch the entire episode of "Shoot-Out" above — in which Bower and Brady also discuss Gareth Bale's move to Tottenham — or on DAZN Canada's YouTube channel.
source
https://www.google.com/url?rct=j&sa=t&url=https://www.dazn.com/en-CA/news/soccer/shoot-out-manchester-uniteds-biggest-problem/18nhh0u6ptwbo1joed6r7afkuh&ct=ga&cd=CAIyGjM5YWU2NzNiY2UyZGJkMGI6Y29tOmVuOlVT&usg=AFQjCNFjEno8opAklHhxtOGWJW286PtBRA