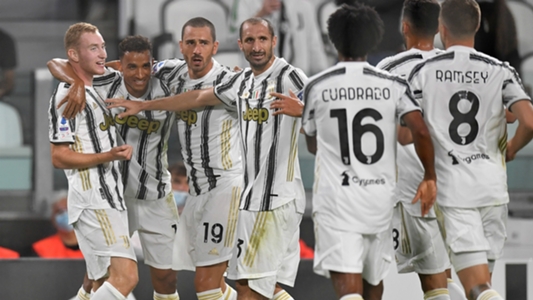 So far, so good for Juventus.
The Serie A giant opened its 2020-21 season with a comprehensive 3-0 victory over Sampdoria. Dejan Kulusevski, Leonardo Bonucci and Cristiano Ronaldo were on target as the Bianconeri rolled to their first of, likely, many victories this season.
It was nothing that wasn't expected of Juve, but Matchday 2 presents a tougher challenge for the nine-time defending champion — on paper, at least.
Roma's no Sampdoria, but on Matchday 1 the Giallorossi didn't fare any better. At Verona to open the season, Roma fell 3-0 to the home side after falling apart in the second half. It was a stunning collapse from a Roma team that fancies itself among the best of the rest of Serie A following a fifth-place finish in the 2019-20 campaign.
Now, the capital city club is faced with the unenviable task of needing a win against visiting Juventus in order to avoid going 0-2 to open the campaign. It's a tall task, for sure, but Roma will be motivated to right the ship while also claiming an early victory agaist the odds-on favourites.
Here's everything you need to know about the Matchday 2 broadcast.
Roma vs. Juventus start time
Date: Sunday, Sept. 27
Kickoff: 2:45 p.m. ET
Kickoff at Stadio Olimpico is set for 2:45 p.m. ET.
Roma vs. Juventus: TV channel, live stream in Canada
TV channel: —
Live stream: DAZN
Roma vs. Juventus — like every Serie A match — is available on DAZN.
DAZN isn't a traditional TV channel but a live-streaming sports platform. In addition to Serie A, DAZN Canada offers coverage of the Premier League, UEFA Champions League and UEFA Europa League, both live and on demand, plus every NFL regular-season and playoff game.
How to watch Juventus vs. Sampdoria on DAZN
In Canada, DAZN offers new customers a 30-day free-trial period. You can learn how to sign up for a free trial here.
The free-trial period would include the Roma vs. Juventus match, plus access to all of DAZN's live and on-demand programming, including Matchday 2 action.
Following the free trial, a DAZN subscription is $20 CAD a month or $150 CAD a year.
DAZN is available on web browsers at DAZN.com, plus many popular streaming devices, including: iPhone, iPad, Android phones and tablets, Amazon Fire tablet, Amazon Fire TV, Android TV, Apple TV, Google Chromecast, LG Smart TV, Panasonic Smart TV, Samsung Smart TV, Sony Smart TV, Playstation 3, Playstation 4, and Xbox.
Serie A Matchday 2 schedule
| | | | |
| --- | --- | --- | --- |
| Date | Match/Result | Time | Live stream |
| Sept. 26 | Torino 2, Atalanta 4 | 9 a.m. ET | DAZN |
| Sept. 26 | Sampdoria 2, Beneveto 3 | 12 p.m. ET | DAZN |
| Sept. 26 | Cagliari 0, Lazio 2 | 12 p.m. ET | DAZN |
| Sept. 26 | Inter 4, Fiorentina 3 | 2:45 p.m. ET | DAZN |
| Sept. 27 | Spezia vs. Sassuolo | 6:30 a.m. ET | DAZN |
| Sept. 27 | Verona vs. Udinese | 9 a.m. ET | DAZN |
| Sept. 27 | Napoli vs. Genoa | 9 a.m. ET | DAZN |
| Sept. 27 | Crotone vs. Milan | 12 p.m. ET | DAZN |
| Sept. 27 | Roma vs. Juventus | 2:45 p.m. ET | DAZN |
| Sept. 28 | Bologna vs. Parma | 2:45 p.m. ET | DAZN |
Juventus schedule 2020-21
| | | |
| --- | --- | --- |
| Date | Match | Time/TV |
| Sept. 20 | Juventus 3, Sampdoria 0 | 2:45 p.m. ET (DAZN) |
| Sept. 27 | Roma vs. Juventus | 2:45 p.m. ET (DAZN) |
| Oct. 4 | Juventus vs. Napoli | 2:45 p.m. ET (DAZN) |
| Oct. 17 | Crotone vs. Juventus | 2:45 a.m. ET (DAZN) |
| Oct. 24 | Juventus vs. Verona | TBD (DAZN) |
| Oct. 31 | Spezia vs. Juventus | TBD (DAZN) |
| Nov. 7 | Lazio vs. Juventus | TBD (DAZN) |
| Nov. 21 | Juventus vs. Cagliari | TBD (DAZN) |
| Nov. 28 | Beneveto vs. Juventus | TBD (DAZN) |
| Dec. 5 | Juventus vs. Torino | TBD (DAZN) |
| Dec. 12 | Genoa vs. Juventus | TBD (DAZN) |
| Dec. 15 | Juventus vs. Atalanta | TBD (DAZN) |
| Dec. 19 | Parma vs. Juventus | TBD (DAZN) |
| Dec. 22 | Juventus vs. Fiorentina | TBD (DAZN) |
| Jan. 2 | Juventus vs. Udinese | TBD (DAZN) |
| Jan. 5 | Milan vs. Juventus | TBD (DAZN) |
| Jan. 9 | Juventus vs. Sassuolo | TBD (DAZN) |
| Jan. 16 | Inter vs. Juventus | TBD (DAZN) |
| Jan. 23 | Juventus vs. Bologna | TBD (DAZN) |
| Jan. 30 | Sampdoria vs. Juventus | TBD (DAZN) |
| Feb. 6 | Juventus vs. Roma | TBD (DAZN) |
| Feb. 13 | Napoli vs. Juventus | TBD (DAZN) |
| Feb. 20 | Juventus vs. Crotone | TBD (DAZN) |
| Feb. 22 | Verona vs. Juventus | TBD (DAZN) |
| March 2 | Juventus vs. Spezia | TBD (DAZN) |
| March 6 | Juventus vs. Lazio | TBD (DAZN) |
| March 13 | Cagliari vs. Juventus | TBD (DAZN) |
| March 20 | Juventus vs. Beneveto | TBD (DAZN) |
| April 2 | Torino vs. Juventus | TBD (DAZN) |
| April 10 | Juventus vs. Genoa | TBD (DAZN) |
| April 17 | Atalanta vs. Juventus | TBD (DAZN) |
| April 20 | Juventus vs. Parma | TBD (DAZN) |
| April 24 | Fiorentina vs. Juventus | TBD (DAZN) |
| May 1 | Udinese vs. Juventus | TBD (DAZN) |
| May 8 | Juventus vs. Milan | TBD (DAZN) |
| May 11 | Sassuolo vs. Juventus | TBD (DAZN) |
| May 15 | Juventus vs. Inter | TBD (DAZN) |
| May 22 | Bologna vs. Juventus | TBD (DAZN) |
Roma schedule 2020-21
| | | |
| --- | --- | --- |
| Date | Match | Time/TV |
| Sept. 19 | Verona 3, Roma 0 | 12 p.m. (DAZN) |
| Sept. 27 | Roma vs. Juventus | 2:45 p.m. (DAZN) |
| Oct. 3 | Udinese vs. Roma | 2:45 p.m. (DAZN) |
| Oct. 18 | Roma vs. Beneveto | 2:45 p.m. (DAZN) |
| Oct. 25 | Milan vs. Roma | TBD (DAZN) |
| Nov. 1 | Roma vs. Fiorentina | TBD (DAZN) |
| Nov. 8 | Genoa vs. Roma | TBD (DAZN) |
| Nov. 22 | Roma vs. Parma | TBD (DAZN) |
| Nov. 29 | Napoli vs. Roma | TBD (DAZN) |
| Dec. 6 | Roma vs. Sassuolo | TBD (DAZN) |
| Dec. 13 | Bologna vs. Roma | TBD (DAZN) |
| Dec. 16 | Roma vs. Torino | TBD (DAZN) |
| Dec. 20 | Atalanta vs. Roma | TBD (DAZN) |
| Dec. 23 | Roma vs. Cagliari | TBD (DAZN) |
| Jan. 3 | Roma vs. Sampdoria | TBD (DAZN) |
| Jan. 6 | Crotone vs. Roma | TBD (DAZN) |
| Jan. 10 | Roma vs. Inter | TBD (DAZN) |
| Jan. 17 | Lazio vs. Roma | TBD (DAZN) |
| Jan. 24 | Roma vs. Spezia | TBD (DAZN) |
| Jan. 31 | Roma vs. Verona | TBD (DAZN) |
| Feb. 7 | Juventus vs. Roma | TBD (DAZN) |
| Feb. 14 | Roma vs. Udinese | TBD (DAZN) |
| Feb. 21 | Beneveto vs. Roma | TBD (DAZN) |
| Feb. 28 | Roma vs. Milan | TBD (DAZN) |
| March 3 | Fiorentina vs. Roma | TBD (DAZN) |
| March 7 | Roma vs. Genoa | TBD (DAZN) |
| March 14 | Parma vs. Roma | TBD (DAZN) |
| March 21 | Roma vs. Napoli | TBD (DAZN) |
| April 3 | Sassuolo vs. Roma | TBD (DAZN) |
| April 11 | Roma vs. Bologna | TBD (DAZN) |
| April 18 | Torino vs. Roma | TBD (DAZN) |
| April 21 | Roma vs. Atalanta | TBD (DAZN) |
| April 25 | Cagliari vs. Roma | TBD (DAZN) |
| May 2 | Sampdoria vs. Roma | TBD (DAZN) |
| May 9 | Roma vs. Crotone | TBD (DAZN) |
| May 12 | Inter vs. Roma | TBD (DAZN) |
| May 16 | Roma vs. Lazio | TBD (DAZN) |
| May 23 | Spezia vs. Roma | TBD (DAZN) |
source
https://www.google.com/url?rct=j&sa=t&url=https://www.dazn.com/en-CA/news/soccer/roma-vs-juventus-live-stream-schedule-time-for-matchday-2-clash-on-dazn-canada/1v4s9x3p2kh8y1lnmsp43q19ya&ct=ga&cd=CAIyGjM5YWU2NzNiY2UyZGJkMGI6Y29tOmVuOlVT&usg=AFQjCNEgPkMbkz1OUIoBse1VzEJzm3KW9g